huff



Joined: Dec 19, 2009


| | |
| --- | --- |
| &nbsp Posted: Jul 13, 2017 - 13:02 | |
---
Since I've been unable to get a Box game when I have time (about 8-11 BBTime), I have taken to working on my Gallery recently and I have a couple 'meta-questions', if you will. Hoping any higher level fumbbl'rs could shed some insight....

- Possible to rename folders?
- Possible to have the same picture in multiple folders (without uploading 2+ times of course)? Some player portraits would fit multiple races, Undead & Necro zombies for example.
- Ideal sizes for logos depending on how you want them to be positioned on pitch (entire pitch and down)?
-True Max Parameters of player portraits?

All I could think of at the moment... thanks in advance.

BONUS (for Gimp users): Most efficient way for transparent backgrounds?
ArrestedDevelopment


Joined: Sep 14, 2015


| | |
| --- | --- |
| &nbsp Posted: Jul 13, 2017 - 13:49 | |
---
From what I've seen:

Can't rename
Can't duplicate - I just remember where the pic I want is.

Logos are a bit weird - for centralised pic, not using the whole pitch I like a height of 208-210px, width dependent on height. The full half-pitch is 360 x 450px

The player pics are max 95 x 147px

_________________


Jim_Fear



Joined: May 02, 2014


| | |
| --- | --- |
| &nbsp Posted: Jul 13, 2017 - 14:32 | |
---
Select by Color followed by Color to Alpha if the background is one solid color. If not, add a mask layer to the image and paint black over everything you want removed.

_________________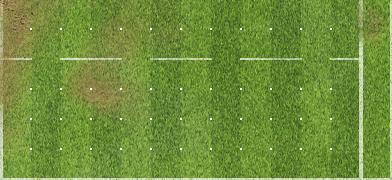 tussock



Joined: May 29, 2011


| | |
| --- | --- |
| &nbsp Posted: Jul 13, 2017 - 16:02 | |
---
Set to 24 bits and scale the image to the desired size first, if not already.

Magic wand select works well, keep adding to it until you've got what you want to be rid of. Try to under-select a bit at this stage, avoid the fuzzy edges.

There's a lot of selection tools can help tidy it up, adding freehand and smoothing and so on. Can be useful to subtract from any selection that's over-reached.

Bucket fill is handy if it's a complex colour you're clearing and not just one or two. Doing this through a mask layer is easier to recover any mistakes, turning visibility on and off to check what you've painted over.

Then expand selection by a pixel or two to grab the edges, and use colour to alpha (which also adds partial transparency to similar colours within the selection, neatly turning the edges partly transparent).


So for a jpg with a white background, magic wand select tool, click the background, expand selection by 2 px, and colour to alpha on white. If it missed the edges, undo a step and expand more. Export as a png (for tidier edges) or gif (for smaller image).

--

Use the Undead directory for Necro too, they're mostly the same team.

_________________



Silent_Hastati



Joined: Nov 04, 2014


| | |
| --- | --- |
| &nbsp Posted: Jul 13, 2017 - 20:55 | |
---
For logos, 200x200 (the 200 height is the important bit) is the ideal size if you want it nestled between the wideout lines, which is what I feel is best for crest style logos.

Example:



_________________