ramchop



Joined: Oct 12, 2013


| | |
| --- | --- |
| &nbsp Posted: Feb 25, 2018 - 01:40 | |
---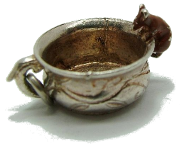 Once upon a time, nearly three years ago, two geniuses got drunk and decided to give FUMBBL a try. They just wanted to play each other with their favoured Thriller build, couldn't figure out a way to do this without setting up a tournament, and a group to host the tournament... and so DIBBL was born. With the first tournament being Crap Bowl.



Crap Bowl IV


Kick off Tuesday 6th March (DIBBL Birthday). Straight Knock Out competition. Sign up below.


Rule set. Only teams in the following builds can play in the Crap Bowl. Teams must be brand spanking new, or have played in a previous Crap Bowl. Cue howls of dissent at my awesome hobgoblin team Stinkfinger - they're hobgoblins, they cheat, get used to it

. Or instead of whinging, play the long game, get your Crap Bowl ticket clipped now and build your team for Crap Bowl V.

The legal team builds:
Thriller: Necromantic team with 1 Werewolf & 0-16 Zombies
Thraller: Vampire team with 0-16 Thralls
Mummy Returns: Undead or Khemri teams with 1Mummy/Tomb Guardian & 0-16 Skeletons.
Hobgoblin United: Chaos Dwarf team with 0-16 Hobgoblins
Planet of the Apes: 0-12 Bonobos
One big snot: Ogre team with 0-16 Snotlings and 1 ogre
Hobbiton Heroes: Halfling team with 0-16 Halflings
Night goblins: Underworld team with 0-12 goblins

Notes:
1. Puggy is the only star player that may be induced
2. A spiked ball shall be used.
3. Two free cards
4. Yeah OK, OP builds thralls, bonobos and hobgobs get punished. Only 1 card for them
5. You read this far and didn't realise it's a NZ comp? Only those who can commit to a NZ timezone prime time kickoff (7pm-9pm) need apply.


Teams signed up:



bigbullies

ramchop

tussock

pdarbs

Karnov



Sharper (pending crappification)


Last edited by ramchop on Feb 26, 2018 - 06:36; edited 4 times in total
tussock



Joined: May 29, 2011


| | |
| --- | --- |
| &nbsp Posted: Feb 25, 2018 - 02:12 | |
---
How do I not have a crap bowl team yet? What have you been doing, tussock?

Hmm, already running Hobgoblins in Box. Already running one big Snot in Box. Have league Apes, have League Vamps, not quite silly enough to try the hobbiton or night gob challenge (yet), put me down for a Mummy Returns squad, undead, will get a team sorted and applied to DIBBL.

NB: March 6th is also census day for NZ, not really a problem, but you know, dates.


_________________



pdarbs



Joined: Aug 11, 2017


| | |
| --- | --- |
| &nbsp Posted: Feb 25, 2018 - 02:52 | |
---
sign me up for a night goblin team
bigbullies



Joined: Feb 20, 2015


| | |
| --- | --- |
| &nbsp Posted: Feb 25, 2018 - 09:19 | |
---
good to see you already have me but as a founding team mjthrillerbbc will as always lead the charge in terrible gaming onwards to err mediocrity

_________________


Karnov



Joined: Jul 14, 2012


| | |
| --- | --- |
| &nbsp Posted: Feb 25, 2018 - 23:44 | |
---
I'll be in with a Planet of the Apes side

_________________


Sharper



Joined: Nov 22, 2006


| | |
| --- | --- |
| &nbsp Posted: Feb 26, 2018 - 00:46 | |
---
I'll bring back my previous necro team