garyt1



Joined: Mar 12, 2011


| | |
| --- | --- |
| &nbsp Posted: Dec 16, 2018 - 01:33 | |
---
That was one cruel crowd throw!

_________________
"A wise man can learn more from a foolish question than a fool can learn from a wise answer."
ramchop



Joined: Oct 12, 2013


| | |
| --- | --- |
| &nbsp Posted: Dec 16, 2018 - 05:13 | |
---
garyt1 wrote:
That was one cruel crowd throw!



Only three directions it could go, and two of them were bad.

Seemed fair enough, especially when you look at the crowd throw from the first time we met earlier in the year
ramchop



Joined: Oct 12, 2013


| | |
| --- | --- |
| &nbsp Posted: Jan 01, 2019 - 19:39 | |
---
SWL Premier League LXXIV
Game 7: Foad's Norse "Blackwater Cockfighters"



Two weeks have gone by since this game was played. Why so long without a match report? Was it deep depression from missing out on staying in Prem? Was it simple procrastination? Or was it a blog rage quit after an in game event?

I honestly didn't remember how this game had panned out, and jumped straight into the replay this morning without even glancing at the match result page.

Foad's Norse team is an interesting one. Having dominated SWL previously (but hadn't dominated the Freezy Trees) with a team of Chaos stat freaks, Foad looks to be handicapping himself. No stats allowed (and he has rolled some), also Frenzy spam! No guard on this team either. What a shame I'm playing without wardancers.

Drive 1: Bravado score T3. Wait? I scored? I thought it was a 0-2 loss. Cool. What happens next?

Drive 2: The ball lands next to the sideline where the norse runner picks it up. Wood elves swarm in. Wood elves eventually get the ball! But swarming near the sideline means high potential for frenzy surfing. Norse regain the ball.
Running out of time and there is still a Wood Elf swarm. Most of the swarm is on the ground, stand up get surfed, but force Norse dice rolls. Except, before they stand up, the Tree waaay out of play decides to throw a careless 2D block [SKULL][SKULL]. The swarm stays prone. Silly swarm.

Hardly gif-worthy, but let's watch Bravado's S75 Prem dreams get crushed anyway: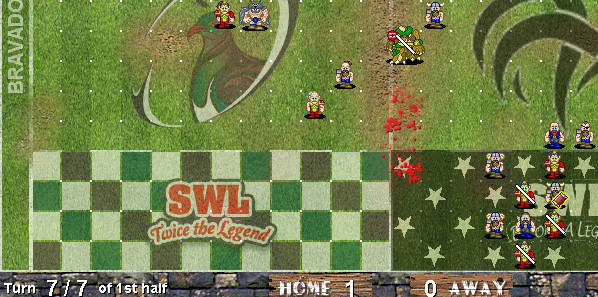 Halftime 1-1.

Second half, Norse grind

Fulltime 1-2 (1/0/0 - 0/1/0)

Back to conferences next season.