Anganatyr



Joined: Dec 14, 2015


| | |
| --- | --- |
| &nbsp Posted: Apr 21, 2018 - 08:55 | |
---
Don´t Simyin need some fluff? Where are they from? What are the background for this race?

For me the Simyin live in the djungles of Lustria like lizardmen, slann and amazones. They have primitive technology like stone spears and stone axes and live in hutts in the tree´s.

Please fill in with more information about the Simyin.
Frylen



Joined: Oct 15, 2011


| | |
| --- | --- |
| &nbsp Posted: Apr 21, 2018 - 09:49 | |
---
And on a remote beach the remaining steel skeleton of a nameless statue depicting a woman with spikey hair and a flaming torch stands abandoned and forgotten(?)
Anganatyr



Joined: Dec 14, 2015


| | |
| --- | --- |
| &nbsp Posted: Apr 21, 2018 - 10:01 | |
---
You meen something like this?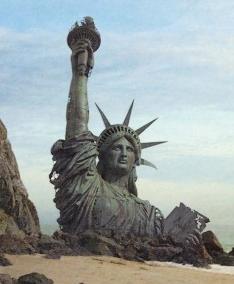 Picture from a remote beach in Lustria.
harvestmouse



Joined: May 13, 2007


| | |
| --- | --- |
| &nbsp Posted: Apr 21, 2018 - 13:48 | |
---
There is and yeah it's pretty much that. They're from Lustria. It should be on TFF.

Probably in this topic http://www.talkfantasyfootball.org/viewtopic.php?f=23&t=35327&hilit=apes+of+wrath Their other name is apes of wrath.

When they were coming to FUMBBL we weren't too sure what division they would be put in and I was charged with coming up with some fluff for Stunty.

I didn't have long but here is what I came up with...not a massive fan of the roster, but I think mines better lol.

Actually on checking I made a roster too....so I might have known it was intended for League. The roster has an extra positional as the figure range has an extra. I also took it that the Gorilla was the lino. Anyway here's what I came up with for FUMBBL for reference.

The lost isle of Krullmadca

The island of Krullmadca (known as skull island) is an island deep in the southern seas in the shape of a skull.

The island is roughly 200kms in size, and is dominated by thick jungle with a ridge of mountains that separate the West side from the East.

If this didn't make the island inhospitable enough, the isle is permanently shrouded in a veil of mist. Furthermore, the journey there is difficult with the most dangerous of passages, with little reward bar being devoured by the hostile natives.

0-2 Chuckertans 5 3 3 8 ss, Strong Arm GP/SA
0-12 Grilluh Backs 5 3 3 9 Wrestle G/SAP
0-2 Agile Gabbons 7 2 4 7 Very long legs, leap, ss, GA/SP (there really is an agile gibbon!)
0-2 Runpunzees 7 2 3 7 Wrestle, ss G/SAP
0-2 Spunpunzees 7 2 3 7 ss, frenzy G/SAP

Cut off from the rest of the world, the island has developed in strange ways. Part magical/part evolution, the evolution chain reversed and took a new direction. Apes of different shapes and sizes gradually became the dominant species. The humans or near humans dwindled and eventually were hunted to extinction.

The new dominant ape species forgot almost all of their past, and society took a new barbaric and unforgiving path. Forgot about almost anything, but not football. That aspect of their lives was ingrained and the tradition continued, albeit their own brutal form of the sport.

Star player
The Last Silver Back 6 4 3 9 ss, Wrestle, Guard, Grab

A range of mountains separates the 2 halves of Skull Island. Nearly all the apes live on the western side and is the closest to what could be called civilisation. The western apes are terrified of travelling to the East, because they know what dwell there.

The east side of the island is dominated by a throwback tribe of bigger and even more brutal apes, lead by the last true Silver Back. This throwback tribe has instilled fear in the apes of the west, and very few are willing to traverse the mountains and travel to the east. The bestial cries can be heard from hundreds of miles away, and chill the hearts of all that hear them.

Be especially aware though, these throwbacks haven't forgotten about football either, and their leader the last Silver Back, is the best of them all!
Anganatyr



Joined: Dec 14, 2015


| | |
| --- | --- |
| &nbsp Posted: Apr 21, 2018 - 14:26 | |
Anganatyr



Joined: Dec 14, 2015


| | |
| --- | --- |
| &nbsp Posted: Apr 22, 2018 - 07:42 | |
---
tjub found this page.

https://warhammerfluffsource.wordpress.com/2014/03/03/beastmen/



Quote:
Ape-Beastmen of the Southlands

The men of Araby and explorers from the Old World have long known of the Ape-Beastmen of the jungles of the Southlands, although some are reportedly little more than lumbering bellowing giants wielding massive two handed axes and hammers and others skitter around screeching and clawing at the enemy, it is said that they are lead by upright intelligent Apemen who speak a dialect of language of Men of the Southlands.

The hordes of the Ape-Beastmen of the Southlands differ from other Beastmen warherds in that they are organised in a fashion similar to any other armed units from other civilised nations – there will be units of shock troops, mounted warriors, ranged weapon units and armoured elite warriors.

Their weapons and tools are not just looted from other races but clearly constructed themselves and reports are they live in fortified villages deep within the jungles of the Southlands, frequently fighting massive battles against the Lizardmen or Savage Orcs of the region.
Anganatyr



Joined: Dec 14, 2015


| | |
| --- | --- |
| &nbsp Posted: Apr 22, 2018 - 08:10 | |