Akendorf Griffins
Franchise Owner:
CEB Holdings
Head Coach:
Alfred Earle 'Greasy' Neale
Province:
The Borderlands
Home Field:
Thunder River Stadium
Team Colours:
Aqua and Orange
With the success of the DLE a handful of Barons in the eastern Borderlands have partnered up to open a new franchise. After much bickering and a few scuffles the Princedom of Akendorf was decided to be the franchises base in the Borderlands.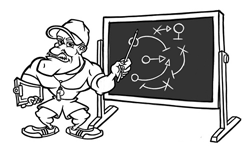 Head Coach Greasy Neale a grizzled veteran of the game with a no nonsense approach and a keen eye for talent has been enlisted to whip the Griffins into fighting shape.
'Greasy' Neales words of wisdom

"You see, in this world there's two kinds of players, my friend: those with piling on, and those who die."

"When some wild-eyed, eight-foot-tall ogre grabs your neck, taps
the back of your favorite head down against the astrogranite, and
he looks you crooked in the eyeand he asks you if you've paid your
dues, you just stare that big sucker right backin the eye, and you
remember what ol' Greasy Neale always says at a time like that:
"Have you paid your dues, Al?" "Yessir, the check is in the mail."

"Remember...there is always a little halfling in the stands that wants to be just like you, don't disappoint him."