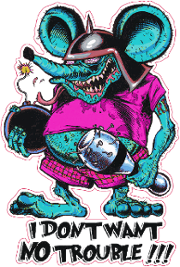 Only the good die young as they say, so there definitely were a lot of good rotters in this world. Those left on the team however are old and grizzled, full of spite and decidedly evil!
Rules:

All Rotters - All the time! Perhaps the occasional mercenary, Star or wizard.



Recruited players have a somewhat hazy recollection of their former lives & will attempt to regain any skills & stats(if possible) that they had before.

The only way off the team is death! No one will ever retire due to injuries as upper management is a cheap bunch.

If I play your team, get a rotter named after you and choose it's skills.
Management Notes: Rover recruiting drive is on...we accept
all*
races, so apply now!
*some conditions may apply
Matches of Interest:
Uusiverikulho
Love with Chaos
Dirty Cranberries
Painelf
Annunaki Utd
Carpathian Nightmares
Do You Even LIFT, Bro?
Born to Live Forever
Crossdressers
Baldur's Gate Blood Bowl
Current Rover Record Holders
Former Players of Note Graveyard
Candidates for Anti-legend(aquire 2 of each injury)

No current candidates

Infected Recruits
*estimated 1,720,000 gold savings in player wages
Team Badges



Rotter Death Count


130

*** Did you know? The team once donated 4,820,000 gold to the Sauerapfel Home for Incapacitated Titchies... bless their rotten hearts!
*Thanks to AkaRenton for the original team logo and thanks to Jopotzuki for the second one!*
* Current logo by Ed "Big Daddy" Roth *
*Player pics by Boeufmironton*
New players waiting list
Degenerate dudesweet101
free build
Derailed Dhaktokh
Wrestle,Tackle,
Diving Tackle, Stand Firm
Mangy morehouse
ask for skill picks *
Blighted Brunick_Smash
* Build as a Passer *
Licey LordPetrudish
Disturbing Presence, Tentacles,
Nerves of Steel
*pass blocking role*
Anglais, Angsty Asteflix
Block, Frenzy,
Juggernaut
*
Krunchy Kzarik
Wrestle, Tackle, Frenzy, Prehensile Tail * *
Karma Kondor
Block, Foul App.,
guard
Noxious Nicklypuff
Block,Claw,Dodge *
Tournaments