Caging 101....The Basics
So ya wanna know how to cage do ya? Then I will try my best to help. Caging is generally the way the slow, bashy teams of the Blood Bowl field get their touchdowns. It is by no means easy and patience is required until you get a few skilled players. The principal formation of the cage is a ball carrier in the center with protecting players (typically 4) on each corner.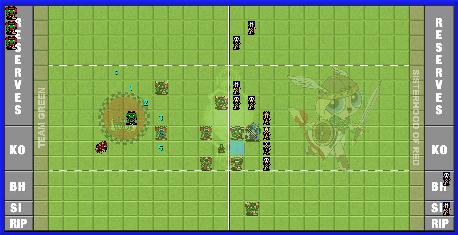 When you are setting up your offence, you should be looking at your opponent's deployment and look for any weak spots.This is where your cage will be heading (usually). From the kick off, when the ball has landed, you place a few blocks on the line of scrimmage so your opponent can't attack your front line at the start. Your Thrower then runs and picks up the ball and runs into the pocket. However, if playing against fast teams you should be prepared to have a couple of Blitzers back to protect your Thrower just in case the kick goes too deep and he is unable to reach the pocket. Let's assume he made it safely in....what now? (You should be picturing your geezer with the ball safely in amongst his own team, who are standing around in the middle of the field picking their noses.)This is the part where you begin the slow drive up the pitch, blocking and maiming all the way.
Don't be in a hurry to rush down. This is where cages fail, when the players get too spread out. Keep the ball carrier and his four guards nice and tight, and keep your stronger players nearby to clear the way.
If you have to stop a couple of turns to reform, don't worry. It's better to do this than to lose the ball - this is where the patience is required - and you should always finish a turn with the player with the ball being absolutely safe. If this isn't the case chances, are you are about to lose the ball?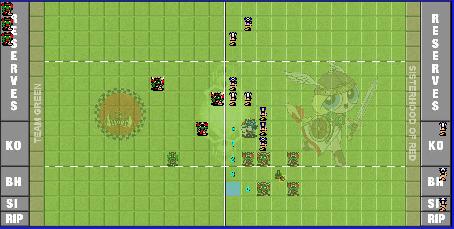 Around about turn 7 or 8 you should be close enough to run in your TD (congratulations you just learnt to cage)!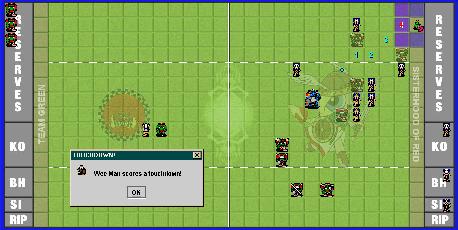 So what skills do you want to take for the guys defending the ball git? Well, Block, Guard (pretty obvious) then Stand Firm on doubles so they can't be pushed around. Tackle is another choice to prevent those bloody AG6 players. As for the guy in the middle he/she/it really needs Block and Sure Hands to stop those Leaping Strip Ball players.
That is all I can think of for the basics. The piccies should help a lot.
Cheers,
Zy-Nox,
The Slave Pimp, Esq.