WIBBL
Albion, the White Isle, rests on the edge of the world, close to the insanity of the Northern wastes, well known as a haven for giants and various other creatures.
However, just to the south of this isle, is another, far smaller, but their passion for Blood Bowl is just the same as that found everywhere in the world...
It is here on the Wight Island, that WIBBL, the Wight Island Blood Bowl League occurs.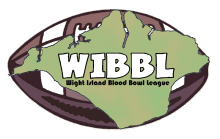 The WIBBL is a highly fluffy league that has just begun its 5th season.
Season 4 was an enthralling affair involving some highly suspicious invaders from an obscure land known only as 'Khand' wherever that is, and highly unexpected eventual winners in the premiership, league founders, the Wroxall Wreckers, a bunch of Orcs known as 'The Nobbla Blackwart associates' to their competitors.
The seasonal KO Competition then concluded with the Champions, Gatecomb Catacomb retaining their crown!
With a new season underway, the Havenstreet Homeboys have opened with a win, but how long can they stay in such fine shape as the only baller team in the premiership?
The GLN managed to grab a word with head coach Cilibaid after their 2-1 win over Cowes Bulls.
GLN: So then, how did that go for you, Cilibaid?
Cilibaid: Not too bad, we made a few positional mistakes at the start, but, given our awesomeness, it was inevitable that we were going to win.
GLN: Really? You didn't look so certain when you were down to 7 players after 2 turns.
Cilibaid: That was just a mask to get my opposite number overconfident, and you have to say, it did work, and a defensive touchdown was the result after they got overconfident and left the ball open be blitzed.
GLN: The second TD was just a bit simpler though...
Cilibaid: Indeed, the Sweltering heat left them with very few options to stop our hyperagressive defence from stealing the ball again, before stalling out time.
GLN: The second half looked quite ugly though.
Cilibaid: It wasn't so much ugly, as uncontrolled, I was looking to provide certain members of the team opportunities to develop, but they failed to take them, and in the end, this left us with the Bull Centaurs grabbing the ball and almost getting away, but by then the game was sewn up, so it wasn't problematic.
GLN: And with that, I leave you till next time.