Obituaries/Valedictories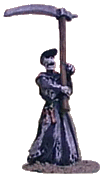 Nikola Tesla, Mummy for Dead Science
Emerging mummy blocker, Serbo-Croatian electro engineer "Nikola Tesla" left the undead ranks of the "Dead Science" yesterday after suffering a savage beating at the hands of star coach Tarabaralla's "Pawns Only!".

Tesla will be remembered for his bloodthirst, his powerful blocks and for his contributions to theoretical physics.
Stryke, Blitzer for -wolverines-
The captain of the -wolverines- Stryke was killed by the crowd in the first half he had only just got his first skill.
Kestix, Thrower for -wolverines-
In the second half of the same game Stryke (see above) died, thrower Kestix was killed by the Kroxigor (who then also managed to pluck the ball from the air and make a dash towards the end-zone). He will be missed...he was a star in the making
Kysthan, Black Orc Blocker for -wolverines-
Black orc Kysthan was then killed towards the end of the game by a saurus.

How the -wolverines- will get past this I don't know (although the drop n rating of about 30 will help), hopefully replacement captain Stryke ii will be able to lead the team to a much needed victory!
Sludge, Troll for =Pump It Up=
Poor old Sludge was the bane of every stunty coach he played against, with skills including tackle, multiple block and reak tackle he truely was a wonder of the stunty world, and will be missed.

In the 13 games he played in he caused a tremendous 15 casualties and an MVP, which he rightfully deserved.

RIP Sludge

(Right then u other lot this is what happens when u fail yer GFI's next to a dirty player and then don't regen...don't let it happen again!!)
Jim "TANK" Wassersleben, Ogre for Gnoadig!
Jim was a little ogre boy when he found interrest in blood bowl. He soon become a contract from several teams, and played a few seasons 'till he signed at the Gnoadig!.

Despite other advices, he soon became a very interesting player, as he developed awesome skills (piling on, block, frenzy, break tackle, multiple block) in training and used them on the pitch.

Unfortunately in his last game against some frogs coached by jimjo, he got fouled and died by a non dp-linefrog in Turn5 of the 2nd half.

So my best ogre of all time passes away. I am glad that it happened before my whole team suffers from an airplane accident (ffb-reset).

Rest well, Jim.