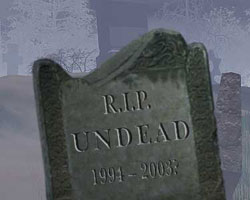 The Dead Ones Bite the Dust?
The Beginning of the Downfall
Most of our readers know that October is the time of the year the Blood Bowl Rules Commission gathers to do its annual rules review. Apart from changing some skill rules, the BBRC this year has to decide whether the Undead team roster will be removed from the official teams. The Undead will be replaced by Necromantic, Khemri and Vampire teams. This recent development has grabbed the Blood Bowl community's attention.
When the Corpses walked the Pitch
Undead were the first Blood Bowl team I ever played. I really started to like this team, and stuck with them all of my coaching career. A reason for this is their variety of players. They can recruit cheap linemen, four fast dodgers with access to agility skills, four blitzers that are very useful even though they have no access to strength skills, and two strong blockers. With this repertoire of players the Undead team fully qualifies as a hybrid team that can play ball and can also bash with anyone. Although many coaches prefer the passing play with their undead, quite a few coaches label them as "too evil to play against". Undead also have "flair". Slow and powerful mummies hitting their opponents hard, wights running down the field in their undead anger, ghouls greedy to feed upon their living foes, and zombies and skeletons marching the pitch in envy of their living counterparts add a fun roleplaying aspect to this team.
Why should they part?
Not only me, but many coaches asked themselves and the members of the BBRC why they want the original Undead roster to die. Jervis Johnson (creator of Blood Bowl) summarized his reason for his changes to the Undead in an article in issue #9 of Blood Bowl Magazine:
"To my mind, [...] aesthetic considerations are every bit as important as the game rules - or to put this another way, Blood Bowl's enduring appeal is not only that it is a great game to play, but also that it is supported by a range of miniatures full of character and has a unique 'tongue-in-cheek' background. The old Undead team failed to do two of these three things, but the new Undead teams achieve all three. And that, in a nutshell, is why I changed them."
What will come?
Nobody really knows what the Undead future will look like. All the necromancers are looking to the release of the results of the rules review with great trepidation. If the Undead do get removed, we will have to see what the FUMBBL administration will decide to do. I hope that there will be a little spot left for them to receive their charity.