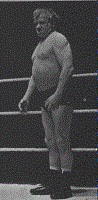 Bone-head
Mighty Blow
Thick Skull
Throw Team-Mate
Block
Stand Firm
Guard
Dodge
Les is a particularly surly and hard to move Ogre.

Les injured a Vampire in his 4th match, for his 1st BB career cas.

Les has also been developing a good double act with Lucan, the go to Ogre to throw the super snot forward.

In his 9th match he had to be saved from death to a Nurgle Spawn by the apo but he returned to kill a Nurgle warrior! It somehow regen'd. Les is now showing solid blocking skill.

In his 15th match he smashed up a Tomb Guardian just a moment after he badly hurt another.

In his 19th match he almost killed a s5 Nurgle Warrior. But this one also regen'd the brutal damage.

Les starts to show Guarding ability too after an MVP against Chaos, his 21st match.

Match 26: Les killed a Dark Elf early on in a surprise 2-2 draw vs Operation 666. Also earned the MVP.

Match 27: Les suffered a major injury in his 27th match. A flesh Golem weakened him greatly and he now can't take such hard hits.

Match 30: Cas'd a Black Orc in a strong, defensive performance. But can't prevent a late 1-0 defeat.

Match 32: 3 casualties caused, including a kill, and the MVP against Gobbos. Though the Wrestlers still go down 3-1.
Les is now able to Dodge blows and tackles much more effectively, and is even known as a star! He really had worked hard on this to compensate for his injury.

Match 33: Twice cas'd a Troll. First he appeared to kill it in turn 8, but it regen'd. Promptly cas'd it again after half-time. Contributed to a great 3-2 win.

Match 43: Cas'd a Khemri skele. One of the few Ogres to last the match against some brutal hitting.