Fort Schippel is the centre of education for all of the studious types who travel from the surrounding monasteries, churches and family duchies. Many's a second son has learned their battlefield stategem or a healer in training patched his first wound in the halls of the Schippelibraium. As with all of the major colleges and schools of learning in the Empire, students are wont to let their minds wander from their education from time to time and what better a way than to keep them busy and promoting the School than College Blood Bowl!
The Hilltoppers are so named because of the location of the college and surroudning Fort and they bring their
High Octane Offense
to the DLE College Sevens competition year in year out.
After a reasonably gruesome duke with the Wissenland State Silver Foxes in which the Hilltoppers saw 5 players leave the field and one permanently, the coach has declared the Silver Foxes the closest thing to a rival that Fort Schippel has!
Season 1 Painasonic Suffering Bowl champions!
Stadium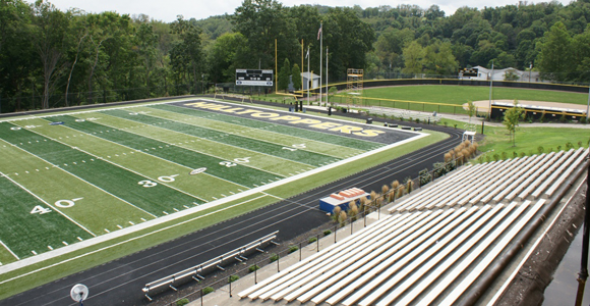 "The Hill"
is a small pitch with bleacher seating on one sideline that the Hilltoppers call home. Space is precious around Fort Schippel and any undefended stadium would be subject to raids so the team make do with the humble field a few miles from the Fort.
Tickets for the games are always rare and the locals as well as students love their team and voice their support loudly from the sideline during each and every game.
Players
Home of the retired and departed who left a permanent mark on the team. We honour those who went before us
| Player | Position | Class | Notable Achievements |
| --- | --- | --- | --- |
| | Catcher | Wild Cat | 17 passes, 7 Touchdowns and 2 MVPs for this pseudo elf before he graduated early! |
| | Blitzer | Head Hunter | 8 casualties and 1 MVP for the enforcer Simms. |
| | Blitzer | Man Coverage | 6 Touchdowns, an Interception and an MVP for this shutdown defender. |
Shameful so and so's who brought disgrace to the good name of the Scimitars
| Player | Position | Class | Notable Achievements |
| --- | --- | --- | --- |
| | example | example | example |
Facts and Stats
Bowl Game History:
Season 1 Painasonic Suffering Bowl champions!

The Hilltoppers took their first bowl title in their inaugural season after they were snubbed by the bigger bowls committees and ended up in the Painasonic Bowl. Third placed and beaten only once in the regular season, the Hilltoppers had hoped for a bigger calling but put that behind them with a come from behind overtime win against Cal Poly Mustangs.