News
(CIBBL Y4, Winter, game one)
W'w'rr xtrr'm'lly l-ckky'n tth'g'mm 'g-nssht th'w'rr-b'ssht t'mm. 'r tt-l'ntss w'rr-r'lly hìlpfful th'ss t'mm-nd B'gg Bb'-sshc-rr'd tw'cc, vv'ry g-dd! N'ww th't'mm l-kss f'nn'nd w'rr m-cch m'rr c-nff'd'ntt'n th'ff-t'rr.
We were extremely lucky in the game against the werebeast team.
Our talents were really helpful this time and Big Boa scored
twice, very good! Now the team looks fine and we are much more
confident in the future.
Older entries, by season
...winter is half over...
(CIBBL Y3, Autumn, game six)
Th'Sl'ppr'ss cm'tt'f tth'ss gg-m w'thh'd'ssh'rvv'd l-sss. Ssh-m ppl'yss w'rr rr-llyy n'cc b-tt th'tcc-m w'sshn't pp'rf'ctt, 'th-rrss w'rr fl-t't...'nn'cc'sss'rryy t'ssh'y th'l'ssht. Gg'd gg-m'nyyw'yy! 'r'pp- ssh'v'd y-t'gg-nn'r Sshtr'ngl'rr fr-mm d'thh...y'hh!
The Slipperies came out of this game with a deserved loss. Some plays
were really nice but the outcome wasn't perfect, others were flat
out...unnecessary to say the least. Good game anyway!
Our Apo saved yet again our Strangler from death...yeah!
(CIBBL Y3, Autumn, game five)
C-m'ngg 'tt'ff tth'ss ssht-bby g'mm w'tth-vv'rry l'cky w'nn'nv-lvving l-ng b-mbss'n'dd-ddg'ss th'sshn'k-ss ssht'll h-v'prr-bl'mss'n d-ff'ncc'. Th'c-chh sshw'r-dd th'tt th't'mm w'll 'sh-m-rr ptt'ntt d-ff'ncc' n-xxt tt'mm'...h-p'ff-lly!
Coming out of this stabby game with a very lucky win involving long bombs
and dodges the snakes still have problems in defence. The coach sweared
that the team will use a more patient defence next time...hopefully!
(CIBBL Y3, Autumn, game four)
Ss-tt'pp-rrss th'ffc-ss'n dff-nc wsshn't th'rr th'ss g'mm'tth-rr...-pss. H'd-n'cc f'rsstt h-lf b'tt vv'rrc-mm'ttd'n prrff'ct d'ff-ncc'n th'ssh'c-ndd, 'nd ffr-m th'rr th'tt-m c-lddn'tt d- m'chh'xcc'ptt ttr' ssh-m r'sshkyy'ct-nss. -r mm'dd'c dd'dd h'ss j'bb b-tt Bl'-n' ssh-ff'rdd y'tt'nth'rr 'njj-ryy. M'chh tt'p-nd'rr f'rr th'n'xxt g'mme!
So it appears the focus on defence wasn't there this game either...oops.
Had a nice first half but overcommitted on a perfect defence in the second,
and from there the team couldn't do much except try some risky actions.
Our medic did his job but Blue One suffered yet another injury.
Much to ponder for the next game!
(CIBBL Y3, Autumn, game three)
Th' Ff'ngsshn'pprr Cll'wpp'ck ssht-pp'd'ss'n 1-1. 'nf-rt'ntt'lyy th'rr w'ss-m'sssh'dd c-tchh't th'nnd'f th'gg-m th't c-ldd h'vv br-ght'ss'n th'2-1 b-t ww'cctt-llyy d'dnn't dff'nd w-ll'n-hh'ndd th'tt w'ss wh-tt c-ssh'd th'tt-. M'rr f-c'ss'n th'ss dd'rr'ng trr'n'ng!
The Fangsnapper Clawpack stopped us on 1-1. Unfortunately there was
a missed catch at the end of the game that could have brought us
on the 2-1 but we actually didn't defend well enough and that was
what caused the tie. More focus on this during training!
(CIBBL Y3, Autumn, game two)
Th Ff-llw'rss'ff th'Ff'rsshtt C-ntt hvv'n l'ck'g-nsshtt 'ss't ssh'mss...w'm'n-gg'd tt'sshc-rr l't'n th'ff'rssht h'lff'nd thh'n d-bl'pp th'n'xxt h'lff'fftrr-ssh'rr'ss'ff l'ck-m'sshm'rr'zz'ng b'll b-ncc'ss. N'ww h'dd'nn th'n-xxt m'tchh!
The Followers of the First Count have no luck against us
it seems...we managed to score late in the
first half and then double up the next half
after a series of lucky mesmerizing ball bounces.
Now head on the next match!
(CIBBL Y3, Autumn, game one)
'n-bl'zz-rdd'r t-lntss w'rr'f n'ssh, ndd thhtt p'sshkyy w'zz'rdd! Whh'n th'tt-m gr-bss h'mm...'nyw-y g-dd g-mm! M-j'rr-vrssh'ght'ff tth'c-chh-t th'bgg'nn'ng, pr-bblyy d't'th'bl'zz-rdd tt-, b't w'rr nt nhh-ppyy w'th th'ttm p'rfrm-ncc.
In a blizzard our talents were of no use, and that
pesky wizard! When the team grabs him...anyway good game!
Major oversight of the coach at the beginning, probably due to the
blizzard too, but we are not unhappy with the team performance.
(CIBBL Y3, Summer, game three)
W'rr ssht'll sshhck'dd'f hh'w th-th'rdd gg-mm ww'nt. Th-vvmp'rss w'rr vv'rry d'fff'cllt-ppnn'tss'nd 'rr mm'dcc llck'ly ssh-v'd'n-ff-r sshtr'ngg sshn-kss ffr'm d-tth. 'n th-nd w'c-m-tt'n tt'p tthh-nkss t'N-fffl'...sshn-k'y'ss!
We are still shocked of how the third game went. The vampires were very difficult
opponents and our medic luckily saved one of our strong snakes from death.
In the end we came out on top thanks to Nuffle...snake eyes!
(CIBBL Y3, Summer, game two)
Ssh'cndd gg'mm w-ppr'chhdd w'tthh ff'r...'rcss'r'nt knn'w t'bb' gg'ntll. 'n tthh-nd w-mm'ng'dd t-ssh'cc-rr-gg-dd vv'ct'rrr'n'm-sshtt 'mmp-rt'ntt-f 'll n-'nn g'tt'njj-rr'dd.'llss-ww' c-'ldd ff'n-llyy fff-rd-mm'dd-cc. Vzz-Qll!
Second game we approached with fear...orcs are not know to be gentle.
In the end we managed to secure a good victory and most important of all
no one got injured. Also we could finally afford a medic. Yupi!
(CIBBL Y3, Summer, game one)
Ffirssht g-mm' w'ss...blll'd b'th. Ttthr' prmmn'nt 'nj-r'ss, tw-f wh'cchh'n vv'rr'mprrt'nt pl'yrss. 't-'ll sshdd'nl' gt vv'rr cmmpl'ctdd! Th-t'mm w'll hldd'n'hhp'ffll ssh'pprtt ssht'ff w'll b-b-ssht'd w'thh mmdd'cc...ssh'nn. Tth'nkss frr th-ss'pp-rt.
First game was...a blood bath. Three permanent injuries, two of
which on very important players. It all suddenly got very
complicated! The team will hold and hopefully the support staff
will be boosted with a medic soon. Thanks for the support.
(CIBBL Y3, Summer, preseason)
"K'r'shh Sl'ppr'ss 'rr hrr pl-y w'th th-b'sst, qll!
W-lv grrr-b'ng lvsss'n'sl'ppr'nggg'n ssstd'-msss, Vzzz!"

Kuresh Slipperies are here to play with the best, ha!
We love grabbing elves and slippering in stadiums, yep!
Info
Stadium:
Motto:
Snake eyes!
Team Song:
Gg, K'r'shh, Gg!
sshl'thrr tthr-ghh th'mm'n'c'll 'r-nnd th'mm!
Gg, Sl'ppr'ss, Gg!
d'ncc'm-ngg th'mm'n'sshc-rr 'gg'nssht th'mm!
Go Kuresh, Go!
slither through them and coil around them!
Go Slipperies, Go!
dance among them and score against them!
Dd'y-kkn-ww??
Do you know what the holes in the spectator seats in the Slipperies
stadium are for? At the entrance if you are a snakemen they give you
a stick (different lengths/sizes available) that fits upright into the
hole so you can coil around it and have a better view!
Seasons
CIBBL - Y3, Winter - Friendlies
1/0/0 for now...
CIBBL - Y3, Autumn - Granite Division
End'd with a 2/1/3 record, fin'ssh'ng 6th over'll...out of 7...of wh'cch 2 teams dropped out midssh'sshon...so not a sshtell'rr ssh'asshon but at leassht we built a reliable team!
Ended with a 2/1/3 record, finishing 6th overall...out of 7...
...of which 2 teams dropped out midseason...so not a
stellar season but at least we built a reliable team!
Year Three, Summer – Youngbloods XII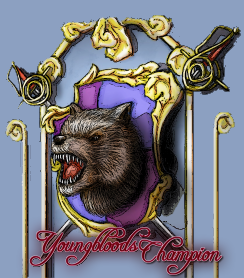 K'r'shh Sl'ppr'ss r-r'h-ppyyy t-h-ldd th'ttl'f Y-nngbl-dd Ch-mp'nn f'r w'nn'ng th'Y-nngbl-dss XII! Vzzz!
Kuresh Slipperies are happy to hold the title of Youngblood
Champion for winning the Youngbloods XII! Yey!
Coach Det comment:
W'll, wh't can I sshay? Affterr a vvery diffficult sshtart we got b'ckk up and won the Youngbloodss. We gavve our bessht b't sshure all the prrayerss our sshhamanss did were ansshwered! Game one had uss sshhattered, game two sshaw us winn aga'nsshtt all odds and game thrree sshaw uss sshomehow keepp't all togetherr and win: triple Sshn'k-y'ss...sshtill can't bel'eve it, but Nufffle takess and Nufffle givess!

We arre approach'ng th'next ssheasshon w'th sshome hope. The tteam iss sshtart'ng to come ttogether and the sshnakess are eagerr to gett back on the pitch!
Practice
Th' coachh, wh'le not unh'ppyy w'tth the t'mm's perff'rmancc, iss alwayss l-kingg ffor wayss t'mprovve. One g'dd tipp he recce'ved, among many'therr even gr-t'rr on'ss, wass to play ssh'me ffr'endl'ess or other sshh'rt tourn'ess with th't'mm, to pract'cc more ssher'ousshly'nd even sshc-t ssh-me new sshnake playy'rrss. Thuss th'K'r'shh Sl'ppr'ss Prct'cc t'mm wass born. To know m-rr about the'rr perff-rmancc'nd whereaboutss go to
the'rr t'mm page
!