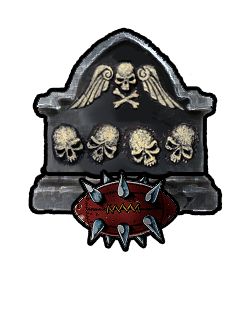 motto: «Today to me,tomorrow to you. I was what you are now and you'll be
what I am now. Think mortal one,that thine end is this and think that it will
be soon.»
The Creepies come from several catacombs,necropolis and museums around the world.
They were raised by a 55 years old necromancer named Audry Roe
who wanted to know more about customs and traditions of the past and the
secrets of the afterlife.
Audry was also able to meet dead people who played several sports when they
were alive.
Some of them were naturally quite preserved,others were just skeletons while
only two (an egyptian and aztec mummy) were ritually mummified.
Once raised,those dead admitted to want to play again and the necromancer
decided to bring together all of them in a single blood bowl team.
Why blood bowl? Because it is the only sport that welcomes the dead.
Also,the dead players of the team rest now in a new catacomb and all
future dead opponent players will be preserved and put there when they don't play.
Audry Roe became the chairwoman of the team soon after being founded in 2011 and
chose Deniz Yürük as general manager and coach.
The Catacombs Creepies don't have ghouls in their roster because the necromancer
didn't want them as they could eat their teammates.
However,without ghouls,the Creepies have to rely only on their two wights
and are less flexible than other standard undead teams.
Audry Roe
(Owner and Necromancer)
Deniz Yürük
(General Manager and Coach)
TOURNAMENT
REGULAR SEASON
PLAYOFFS
145 Rookie League XXI
17th (1/0/0)
//
AIBowl Toshiba Cup (Season 1)
1st,Group B (14/5/1)
Lost Final
(1-0 against
Berserking Vikings [norse])
AIBowl Toshiba Cup (Season 5)
1st,Group A (3/2/0)
Won Final
(1-0 against
Chaos Giants [chaos pact])
WIP
Season 5 AIBowl Toshiba Cup Winners