Obituaries/Valedictories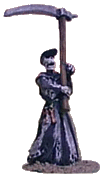 Cacodemon, Zombie for Doomed From the Start
A great hush has fallen across the White Isle this evening as Cacodemon shambled his last.
The League division's oldest and brightest star Necromantic Zombie was killed for the final time in a loss against Pro Elves Rip Tide.
This stellar career started in the first game Doomed From the Start (DFTS) ever played in the WIL, back on the 12th of June, 2006. Since then, DFTS have risen to become the league's third most violent and oldest team, amassing 136 games of which Cacodemon Captained the side in a remarkable 135, a league record for games played. His skills spoke for him, a Dirty, Guarding, Blocking, Mighty Blow machine of a Zombie, who lead the side through thick and thin. His career highlight was lifting the league trophy for the only time in DFTS history in Season IX.
DFTS began tonight's encounter knowing that relegation from the top tier of the WIL was a near certainty. The side is in a state of flux and rebuild, unable to compete with the great and the good, and Cacodemon was leading the revival. Refusing to stick to the plan and lose with grace; the Zombie captain put in a CAS and dragged his side to an unlikely 1-1 half time score line, only for the Elves to find a Blitz! that put the writing on the wall as only three AG3 players could take the field for the Necroooooo. In T16, the game was finally up, and Cacodemon turned to offer his rotted hand to the Pro Elven coach in salute of their victory. As the Ref pursed his lips to whistle, an Elf Lineman, Tube rose from the turf and laid a sickening block in Cacodemon's back as the game's final action. Not seeing it coming, Regenerate was failed, and time was called on a fantastic career.
The associated press spokesperson of the White Isle, Desmond Lineman, awarded the MVP to Cacodemon as a last honour.
RIP for a final time Cacodemon, you will be missed!
On the day of Tube's death, Cacodemon's estate will donate $15 to FUMBBL in honour of whomever avenges our fallen hero.