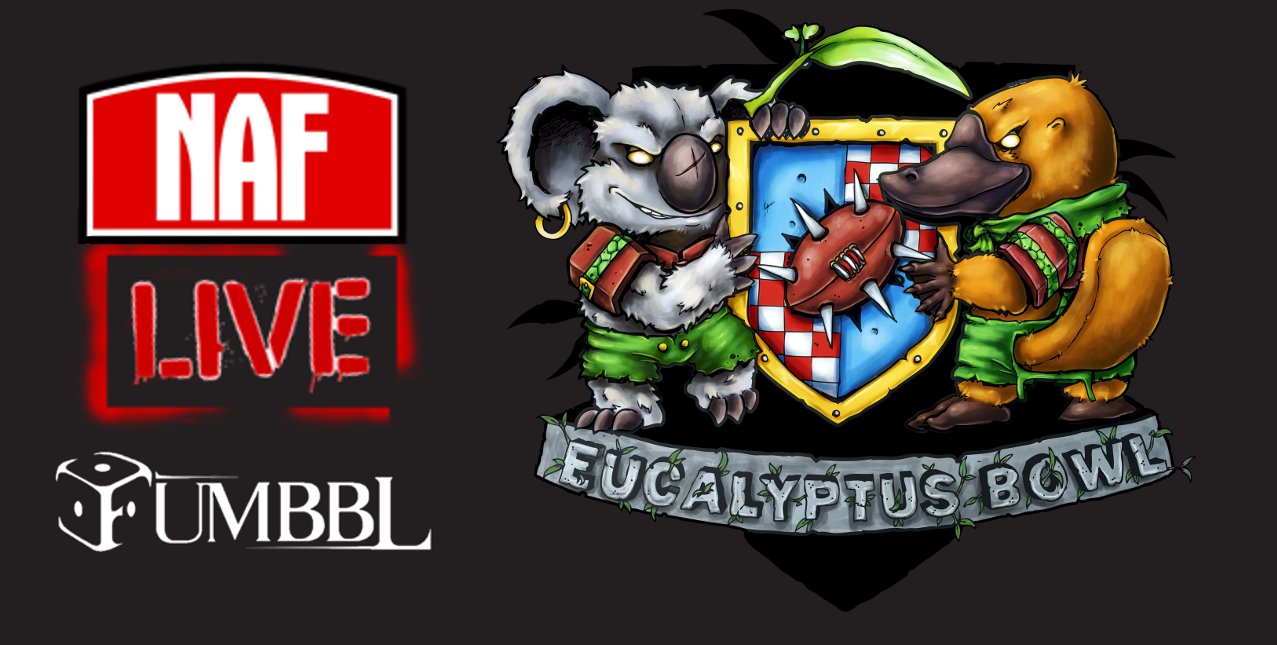 Next tournament: Euc Bowl Brouhaha - 18 / 19 April 2020. European group.
Accepting Teams for the EUROPEAN division until 11:00 Server Time 18 April 2020.

Registration opens at 11:00 Server Time with the event starting at 11:20 Server Time). Please be online at this time. Players who have not been online during this period will not be drawn in the event.
Schedule:
Round / Oceania / Europe / Americas (server time - check the top right of the page)
1 (April 18) / 02:20 / 11:20 / 18:20
2 (April 18) / 04:50 / 13:50 / 20:50
3 (April 18) / 06:50 / 15:50 / 22:50
4 (April 19) / 02:20 / 11:20 / 18:20
5 (April 19) / 04:50 / 13:50 / 20:50
6 (April 19) / 06:50 / 15:50 / 22:50
Ruleset - team building rules:
Teams have a value of between 1,150,000 - 1,300,000 GPs depending on their Tier.
◦The gold can be spent on any combination of players, inducements and skills as allowed by the Ruleset.
◦Current NAF teams are avaialable for use. Star Players are as per site implementation. (BB16)
◦All teams must start with at least 11 players (this can include star players)
◦You must spend all your cash, or discard unspent funds. You cannot keep unspent funds in your treasury and spend it later.
◦Each rostered player can be given at most one Normal skill, increasing their value by 20k
◦Star Players are not eligible to gain additional skills.
◦Teams are limited to selecting at most 2 of each skill. General Skills Excluded. Stunty Teams Exempt.
This means you can give all you Beastmen Block (general skill), but you can't give them all Piling On (strength skill). You can give all you Ogres Piling On (stunty team).
◦Special Play Cards are not to be used. Team Wizards permitted. Fireball (3x3) and Zap (frog), as per site implementation.
Teams have a value of between 1,150,000 - 1,300,000 GPs depending on their Tier.
Tier #1 1,150,000gp
- Teams that have won Eucalyptus Bowl on multiple occasions.
Orc
,
Dwarf
&
Necromantic Horror
.
Tier #2 1,200,000gp
- Teams that have won Eucalyptus Bowl.
Amazon
,
Wood Elf
,
Dark Elf
,
Nurgle
,
Lizardmen
,
Shambling Undead
&
Slann
.
Tier #3 1,250,000gp
- Teams that have never won Eucalyptus Bowl.
Bretonnian
,
Chaos Chosen
,
Chaos Dwarf
,
Chaos Renegade
,
Daemons of Khorne
,
Elven Union
,
High Elf
,
Human
,
Tomb Kings
,
Norse
,
Skaven
,
Underworld Denizens
&
Vampire
.
Tier #4 1,300,000gp
- Stunty Teams.
Halfling
,
Goblin
,
Ogre
,
Underworld (without skaven)
,
Lizardmen (without saurii)
.
Remember, Eucalyptus Bowl is a tournament without a skill package. You have starting GPs to spend on not just players and inducements but also skills.
As per usual with such events, be careful when selecting skills for your team. Pay attention to the tiering rules and give skills as appropriate! Piling On is as per CRP (No reroll required).
As an additional prize, the winner will of each region will be awarded free entry to the tabletop tournament of the same name that is run annually in Sydney, Australia. This prize may be used anytime within the next 5 years (up to 2025 inclusive).
Applications via the link at the top right of the page ('Create team for this league' and then apply via the 'Teams' tab) ending April 18 at 11:20 server time. Apply to the right group for your timing preferences! Follow the links below.
NAF names / numbers and included inducements should be included in team bios. This tournament is open to all, so please join us even if not a member (and then join us!).
Oceanic group
/
European group
/
Americas group
.
*****
-
Message from 'goo
As the Covid-19 pandemic continues, we are noting increasing numbers of NAF tournaments are being postponed or cancelled. Health and well-being comes first, and we support Tournament Organisers talking whatever steps they deem necessary with their events to keep people safe.
As we lose these tournaments from the calendar, members are asking us if we can fill the gap with increased Online NAF activity; either via TOs simply holding their events online, or via the NAF providing more tournaments for you to participate in. The former presents us with non-trivial administration, technical and practical issues, so starting on March 28, we will be running a number of 'NAF Live' tournaments on FUMBBL for an indefinite amount of time.
We will be reviewing the format and frequency of these tournaments as we go along, but to begin with, these tournaments aim to recreate the real life tournament feeling as best we can, and will run in parallel with existing Online NAF events. Further details:
- Tournaments will comprise 3-6 games of Swiss over 1-2 weekend days (Sat / Sun), with the next event taking place on April 18 & 19.
- Participants will be expected to play up to 3 games in a day according to a set, timed schedule. e.g. Game 1: 10:00, Game 2: 12:30, etc.
- Tournaments will take place in Oceanic, European and Americas time zones. All NAF members may participate, as per usual for Online NAF.
- Rulesets will be taken from postponed tournaments with clear and well written rulespacks, accessible via the NAF site. These rulespacks should be easily implemented on FUMBBL, so tournaments with heavy or unique, integral house-rules should not apply.
Following the success of the Dungeonbowl event our second event will feature the ruleset from Eucalyptus Bowl, but if there is any sepcific ruleset that you would like to see recreated online, please contact Purplegoo via the NAF website. You should also make contact if you have a good working knowledge of FUMBBL and would like to assist in administering these temporary events for a short time, as with more tournaments comes more work for our team. Please assist if you can!
Many thanks, and stay safe.
Phil / Purplegoo.