Apply to above to enter any [L] team.
On now:
DIBBL Leeg Season 22
Pink 'n Scabby Division
Wellington Pheonix - blackcaps

Otago Spirit - tussock

Dustbunnies - pdarbs


Yaphet Kotto - BlueMillionMiles

Coromandel Capricorns - mushoomy
Ungirt Runnerz - smeborg

Back Alley Burglars - DustBunny

World's Edge Hornets - Sharper

Karaz-a-Karak Krakens Division
Undercity Unlikeables - Felix17
Ashenhall Owls - JPM

Da Freebootaz - D_Arquebus

Freezy Trees - ramchop
Mnajdra Solstice - claymore3981
North Cape Crays - Wozzaa
Settra's Sons - Boriz
Milking the Pigeon - Trickey

Blackwater Sting Division
Brutal Beefcakes - dirtyjambo -

Deserted Isle Buccaneers - Happy_Amateur


Itsy Bitsy Locals - ArthurWynne
Hauraki Horrors - DDAmAge112


Old 'Murican Gods - Klazam

Madhead's Mountain Mob - Trickey

Blackwater Blitz - Foad

Valinor Football Club - Fool
Just Finished:
DIBBL Leeg Season 21

Once again, congratulations to Sharper, but this time with his baby Chaos, doing what SWL do best and crossing the Tazman to pillage the Isles.
World's Edge Hornets - Sharper
Other Tournaments:
Stunty-go-Round
A quick fire stunty round robin competition. Made up of Goblins, Ogres, Halflings, Skinks (no Saurus), Underworld (no Rats)
The following rules are in place:
o A spiked ball is used for play. Any failed pickup or catch roll results in the player being stabbed.
o 50k inducements will be given to each team to purchase a Card
o Banned sneaky git players are sent to the KO box instead.
o Sneaky Git functions like Guard on foul assists.
Crazy 8s Cup
Entry is open to any DIBBL team.
The following rules are in place:
o Maximum number of players on pitch for each team will be 8. Note: Rosters will still need the minimum 11 players.
o Teams must set up a minimum of 2 players on the line.
o Turns are limited to 2 minutes.
o Fouls will receive a +1 to break armour.
The BIG Star Cauldron
Congratulations to
Dunenzed and Icepelt Hammerblow
for taking out the first DIBBL Major trophy by beating Shteve0's Zug in the final. This was a 16 team, straight knockout tournament where each team had a unique Big Guy Star (any St5+ star player, or Puggy). Big Stars were surprisingly squishy.
Crap Bowl
This is DIBBL's oldest & most historic competition, but not the most prestigious by any means. Though it may be fair to say that no DiBBL events hold much prestige.
The competition is restricted entry to the following team builds:
Thriller: Necromantic team with 1 Werewolf & 0-16 Zombies
Mummy Returns: Undead or Khemri teams with 1Mummy/Tomb Guardian & 0-16 Skeletons.
Hobgoblin United: Chaos Dwarf team with 0-16 Hobgoblins
Snotling Allstars: Ogre team with 0-16 Snotlings
Hobbiton Heroes: Halfling team with 0-16 Halflings
Notes:
1. Puggy is the only star player that may be induced, all other inducements are allowed.
2. A spiked ball shall be used.
Crap Bowl II will be played at some point in the future.
Lambhurly Shield
The Deserted Isles Blood Bowl Leeg has a long and illustrious history. Way back in the dawn of competitive Blood Bowl on the Isles the great werewolf star Michael Jackson single handedly won the first Crap Bowl. A scrum of fans jostled for the autograph of this new superstar of the south. However, not all in the crowd were so enamored with his antics. An incensed hobgoblin spectator grabbed hold of a juvenile sheep (as is the custom) and hurled it at the shining star. It was indeed a fantastic throw, perhaps lethal had it not been for the intervention of an adolescent human fan. Young Timmy, MJ's number one fan, a hero wannabe dressed in full battle gear, leapt between the werewolf and the incoming sheep, and thrust his shield high for protection. The lamb bounced off the shield and Michael was saved! Young Timmy accompanied the star on a visit to his Neverland estate, he must have liked it there as he was never seen again.
The Lambhurly Shield has become the most prestigious trophy in the Leeg. Not only does it look great on the mantelpiece, it is a useful protective implement. The vindictive hobgoblin started a trend, and now at the end of every DIBBL fixture it has become a tradition for the barbaric crowds to hurl at the victors: livestock, Waikato Draft bottles, gumboots, small children... etc
This prestigious trophy was once wielded by the mighty Timmy, number one fan of the great Necromantic Werewolf Michael Jackson. To honour his idol, Timmy had had the shield custom built to reflect MJ's coat of arms featuring the Wolf and the White Gloved Hand.

Current holders:

Dirty Rotten Filthy Scum (mushoomy)
The Rules
In the early days the Shield existed as a challenge. Almost anyone could issue a challenge at anytime. However, now that it resides within the Leeg it's more of an automatically scheduled thing. There are still rules though:
- The challenger must be from a different NZ league to that of the holder
- The holder must accept the challenge.
- Shield fixtures may take place in the round robin stage of tournaments. While this is the default position, the holder may choose to also accept challenges in the playoffs (this is encouraged if they intend to sit out the following season)
- The Shield is held by a team, not just the coach or province.
- The game will be played at a mutually agreeable time, but as it's a home game it's expected that the challenger be more flexible for scheduling a time most suitable to the holder.
- The challenger, win or lose, is expected to write a brief match report in
the season thread
- And just to rub in that first rule, immigrants to DIBBL remain as second class citizens and are not eligible to challenge for the Shield (you can take our Cup, but not our Shield)
The Path of the Shield
History:
DIBBL was founded in 2515 by obscure coaches of little repute, Bigbullies & Taketheskull, as no respectable (or otherwise) league in the Auld or New World would host their scum-ridden teams. In order to play the match they set sail to a sparsely populated archipelago known as the Deserted Isles, east of the Southern Wastes. In that inaugural match, Werewolf Meets Zombies defeated MJ Thrillers BBC 2-0 (2-5), but earned little respect for the manner of their victory.
Having seen these two teams disgrace themselves on the pitch, Northern tribes quickly assembled a team of Hobgoblins and a team of Snotlings, in order to restore honour to the Deserted Isles. Despite Morg'n'Thorg making a surprising appearance for the Snotlings, the Hobgoblin team, Stinkfinger, prevailed in the trial match and challenged Werewolf Meets Zombies to a match.
The local media, in light of the rubbish teams playing, quickly labelled the match Crap Bowl and they were proven correct. The few fans that turned up to watch the match left early, disgusted by the embarrassingly high level of incompetence shown. It is rumoured that Michael Jackson scored at TD in the dying moments of the match to hand Zombie Meets Werewolf the victory, but nobody really cares.
All involved agreed that it would be hard not to do better next time, with new administrator Ramchop drafted in to run the follow up tournament.
Background
The Deserted Isles is a barren windswept archipelago a few days sail East of the great continent of the Southern Wastes. Blood Bowl is a religion on these lands, though it mostly exists as a disorganised series of drunken encounters. Many have tried to establish a national league but most competitions are festival events where teams from around the Isles descend upon a town for two days of Blood Bowl mania. The three majors are The Greenstone Cup, The Capital Shield, and the Mainland Bowl. These events are marathons where teams play 6 games each over the space of a weekend. Mere mortals can't possibly complete such a task unassisted, copious amounts of a magical brew appears to help, and it is rare that a player will emerge from such events with anything more severe than a massive smile on their faces.
Local leagues do exist in the main three centres, and the recently established Deserted Isles Blood Bowl Leeg (DIBBL) has led to the launch of a few notable competitions including: The Big Star Cauldron, The Crazy 8s, and Stunty-go-Round. A national league (DIBBL Leeg) has recently been set up. A number of coaches also ply their trade in the SWL
Home: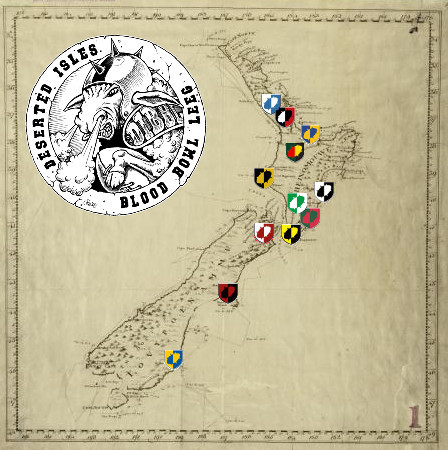 DIBBL "Honour" Roll:

Crap Bowl I - Werewolf Meets Zombies (Thriller, Taketheskull)

BIG Star Cauldron I - Icepelt's Hoar Frosters (Norse, Dunenzed)
Crazy 8s Cup - Cheeky Darkies (Dark Elf, ramchop)

Stunty-go-Round - Disreputable Reptiles (Skink, Toffernz)

DIBBL Leeg Season 1 - Journey from the West (Simyin, D_Arquebus)

DIBBL Leeg Season 2 - Mech Tech (High Elf, Longshanks)

Dirty Star Ring - Flinty Lumberjacks (Dwarf, Pyates16)
Golden Millions Hoedown - Cheeky Darkies (Dark Elf, ramchop)
DIBBL Leeg Season 3 - Pitch Slap (Chaos Dwarf, mushoomy)

Crap Bowl II - Crap Bowl Plungers (Thralls, DustBunny)
DIBBL Leeg Season 4 - Transfusion Time (Vampire, ramchop)

BIG Star Cauldron II - Free to Die (Grashnak Blackhoof - Chaos Dwarf, tussock)
DIBBL Leeg Season 5 - Squishy and Breakable (Skaven, OrcCleaver)

Lambhurly Shield (current holder) - Ashenhall Owls (Wood Elf, JPM)
The DIBBL Leeg
Leeg Rules
HERE
Not too long after the establishment of DIBBL, a weekly Leeg was started. Beginning with 8 coaches from around the country, it has doubled in size with two pools of 8 in Season 5. Full round robin pools followed by finals. Top teams go to the "Tickling" Playoffs for the ultimate prize "The Placeholder" (named after the first team to win it three times). But nobody misses out, there's also "The Participation Plate" - for it's the taking part that counts. And below this "The Wobbly Boot", which is better than a Spoon.
The prized Lambhurly Shield currently resides in The Leeg, and is challenged in any round robin fixture (unless you're from the same province as the holder, or you're the ineligible Aussie).
Currently the two divisions are equivalent (i.e. not tiered). This means that new teams entering The Leeg will face some fairly developed teams. To make things a bit easier on the DIBBL virgins, teams are allowed to build to a maximum TW of 1500 (including treasury). Training games can be played against any [L]eague team, but you may not play against the same team twice.
The style of the Player Awards changes every season. Click
HERE
for the Bling for your team and player bios
List of Champions:





Champion










Runner up
Season 20
Pink 'n Scabby, Sharper
1 - 0
Slaan Francisco 69ers, barberfett
Season 19
Pink 'n Scabby, Sharper
2 - 1
Blackwater Glee Club, Foad


Season 18
Blackwater Glee Club, Foad
1 - 0
Dirty Rotten Filthy Scum, mushoomy


Season 17
Karaz-a-Karak Krakens, Bojoaph
2 - 0
Dirty Rotten Filthy Scum, mushoomy


Season 16
Tararuas Krox, OrcCleaver
3 - 1
Karaz-a-Karak Krakens, Bojoaph
Season 15
Tararuas Krox, OrcCleaver
2 - 1
Slaan Francisco 69ers, barberfett
Season 14
Blackwater Sting, Foad
1 - 0
Misericors, DrPoods
Season 13
Transfusion Time, ramchop
2 - 1
Overly Refined, Jevouse
Season 12
Tararuas Krox, OrcCleaver
2 - 0
Wild Ex-pacts, Sharper
Season 11
Disregarded Derelicts, paradocks
1 - 0
Otago Spirit, tussock
Season 10
Temporary Placeholder, Sandune
2 - 1
Injury Time!!!, Foad
Season 9
Temporary Placeholder, Sandune
3 - 0
Otago Spirit, tussock
Season 8
Squishy and Breakable, OrcCleaver
1 - 0
Nyghtstabbers, Sharper
Season 7
Injury Time!!!, Foad
3 - 1
Transfusion Time, ramchop
Season 6
Temporary Placeholder, Sandune
2 - 1
Journey from the West, D_Arquebus
Season 5
Squishy and Breakable, OrcCleaver
2 - 1
Journey from the West, D_Arquebus
Season 4
Transfusion Time, ramchop
3 - 1
Pitch Slap, mushoomy
Season 3
Pitch Slap, mushoomy
1 - 0
Tinker-Toy Titans, D_Arquebus
Season 2
Mech Tech, Longshanks
3 - 1
Transfusion Time, ramchop
Season 1
Journey from the West, D_Arquebus
2 - 0
Fatal Flaws, Toffer
Player Awards:
| | | | |
| --- | --- | --- | --- |
| | | Star | |
| Season 20 | | Andrew "Starships" Cornell, Blackwater Glee Club - Foad | |
| Season 19 | | Grimnir Goldentoe, Karaz-a-Karak Krakens - Bojoaph | |
| Season 18 | | Andrew "Starships" Cornell, Blackwater Glee Club - Foad | |
| Season 17 | | Chop, Back Alley Burglars - DustBunny | |
| Season 16 | | Powell, Tararuas Krox - OrcCleaver | |
| Season 15 | | Powell, Tararuas Krox - OrcCleaver | |
| Season 14 | | My Boy, High Elvis - mushoomy | |
| Season 13 | | Chop, Back Alley Burglars - DustBunny | |
| Season 12 | | Powell, Tararuas Krox - OrcCleaver | |
| Season 11 | | Blaze Argenthorn, Ashenhall Owls - JPM | |
| Season 10 | | Blaze Argenthorn, Ashenhall Owls - JPM | |
| Season 9 | | Blaze Argenthorn, Ashenhall Owls - JPM | |
| Season 8 | | Blaze Argenthorn, Ashenhall Owls - JPM | |
| Season 7 | | striatum, Crouching Saurus Hidden Skink - bigbullies | |
| Season 6 | | Chop, Back Alley Burglars - DustBunny | |
| Season 5 | | greyii, Crouching Saurus Hidden Skink - bigbullies | |
| Season 4 | | Earl of Lemongrab, Transfusion Time - ramchop | |
| Season 3 | | Earl of Lemongrab, Transfusion Time - ramchop | |
| Season 2 | | Flame Princess, Transfusion Time - ramchop | |
| Season 1 | | The Lich, Transfusion Time - ramchop | |