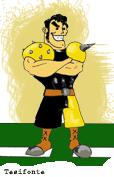 +ST
Block
Guard
Mighty Blow
Tackle
Juggernaut
The greatest thrall to ever play the game and one of the only legend thralls in Fumbbl's history. That really hurt is a team original and is the captain of Dracula's Eleven in the absence of Dracula who periodcally plays for the team, then dies then comes back after a lie down and plays again.

That really hurt is the highest blocking and cas thrall of all time with 960 blocks that have resulted in 68 cas. He has lost a lot of his abilty as a ball handler due to a fairly horrific injury list despite the fact that he has had unlimited use of the apcorathy. Due to these injuries he is often mistaken for an undead player during matches.

That really hurt proves the old boxing adage "The last thing to go is a fighters punch"

Did you Know? That really hurt has only been bitten only once by a vampire. This may be due to the fact that the vampire in question dissappeared soon after and was never seen again..and the vampire tooth neckless that he now wears puts of even Dracula.

Did you Know? That really hurt has only held the ball twice in 136 games carrying the ball all of 13 yards and completing just one pass.