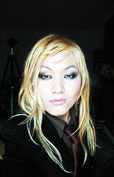 ----- Ancestors ------
Grandgrandgrandgrandmother was Zwetlania, who retired after 68 games 100 fouls, was our main dp but also got wrestle, fend and -move.

Grandgrandgrandmother "played" 6 games and knew absolutely NOTHING about blood bowl.

Grandgrandmother (three-skilled catcher, 17 games and 34 spp) got killed after I used the apo too early in a game I totally had control of, but my opponent rolled a crazy turn and I utterly failed the turn after...

Grandmother and mother (0 spp, 14 games) had no clue about this game, just joined cause everyone else did.