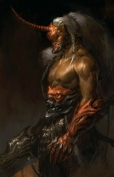 Previous Name: Joran Demarius

A soldier gifted with all weapons. It was said that he sunk a war galley with a single arrow, although, he is utterly devastating with his greatsword, "Cleave."

Confirmed Kills: 1

Game #30: Caught a pass for a touchdown.

Game #31: Killed Lid, a Norse Lineman w/ Fend/4AG from Stenkheads.