Grotty Little Tournament XV
Had a go at their
first major
in
game 428
, where they surprisingly won their
forlorn qualifier
.
Ulthuan Invitational XVII
Having nothing better to do when Major commish called for the last major of the current ruleset, they opted to join Ulthuan Invitational XVII. And somehow won their
qualifier
, and now have qualified to the final stage of a major back 2 back.
Berserkers is THE
oldest (games played)
active
and all time norse team in box.
That the Scheduler twice had an off-day:
GronxWild vs DaCoach (Chaos 2120 vs 1300 Norse) @505 - we
won
BTW :)
azyx vs DaCoach (High Elf 2480 vs 1740 Norse) @529 - we
drew 2-2
.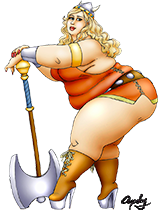 Still rookies with a mere 250ish games,
Sven Frenzysco 69ers
, coached by
Balle2000
are trying to catch up with the mighty Berserkers. (As far as
kool
team logos go, they already have).
Now also
Vikings Dusk
have returned from the great beyond, due to the 'Save Borak' campaign, though yet to play any games. With a winning record to be proud of.
Sweinur Skullthrower
(deceased) the 10th ever Norse player to reach legendhood in the box. He died by a fireball in the Black Box Birthday Bash I. Only his ashes remained once the dust cleared.
Roar Gobcrusher
(retired) Made it to legendhood with 3 cas in a brawl semi. 17th Norse player to reach legendhood in Box.
Top 10
All-time Norse Blocker in Box.
Stein Icedart
pretty unremarkable legendary runner
Baldur Wulfcurse
(retired) Only Super star counted among legends, for continuing to play despite carrying around six injuries.