Malignant Curators

Erstwhile watchers, we who claim the shadow as our own, and plot upon the lives of your kin. Banished to dark we have seen the rise of others, and with it fueled our despise. We will have from among you what you call dear, and further bind its will to our cause. From within, we shall rise - as you grow strong so do we.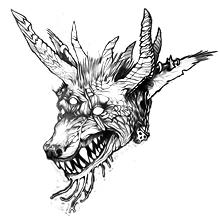 Gaze upon the face of our master and know what we promise:

The blood of Khorne rots in your flesh,
The bile of Nurgle has turned to stone.
The ecstasy of Slaanesh numb evermore,
And Tzeentch blinded - sees what's come and what must go.


Summary of Work, and Exalted Deeds:

Beginnings, Year 2, Winter:
3rd in Youngbloods tournament, with a record of 1/1/1. A respectable dose of black, white and grey. Breek Argan picks up the fouling award and is proclaimed the "Baron of the Bloody boot" by Malal.

In pre-season practice Gutterfingers is booted into service.

Spring (Regional Winners)
Game 1, awarded win by forfeit, as the followers of Nurgle fail to appear.
Game 2, Tie with the coven of Tzeentch, kicked and bloodied, they held on to the end.
Game 3, Victory over Slaanesh, as his followers go to extremes and end up numbed. Gutterfingers the hero of the hour!
Game 4, Victory over the Spawn of the Pantheon, Gutterfingers with 2 TD!
Game 5, Absolute dicing. Victory over Khorne.

Summer (Cabal Invit)
Game 1, A rude awakening as the servants of Malal are soundly thrashed by Necrarch Vamps (who would go on to win the tournament)
Game 2, More Undead vs the Zandri, but a 2-0 win after some mighty kicking
Game 3, Tied game vs Araby, the sands holding, and Gutterfingers picking up a nasty injury
Game 4, Victory over the Humans, with the fans grasping many players
Game 5, Hard-fought win over the Ninja Warriors of Nippon, the smaller team inflicting some heavy cas.


To all those who would listen:

Open your eyes and receive the coldness of my embrace
Abandon all hope and fill your soul with ashes
Behold the hunger of the void as it unfolds
It's running blaze in hideous magnificence

The wounds already open
So let the gate unclose
Bring forth the unworthy sanctum
From the respiring stone

Fists against the stone
Sword against the wind
A flickering light
Drowning in the dark
Poison for the sick
Vinegar for the thirsty ones
A putrid kiss in coldblooded grace

I have foreseen when you were blind
I shall become when you shall fade
I'll walk the ruins of your destiny
In the twilight of your death

I hold the key to the inescapable gift