Trickey



Joined: Oct 10, 2018


| | |
| --- | --- |
| &nbsp Posted: Jul 25, 2020 - 09:46 | |
---
Hey sports fans it is the Mascara Snake here with Cecilio here from Banda Sagrada de Magritta. As is the tradition here at Osbbl HQ our dark and mysterious plutocrat Silky brings the tortured soul of the last dead player back to spend the season with me, the Mascara Snake one time session clarinet player in the tentacles. So cutting a rather grim figure with several missing digits and a chiseled jaw a massive welcome to you Cecilio, who would of thought your beloved deity Myridia would lead you here.

"Yes"-Cecilio says man of few words.

Ok so let's look at the season ahead.

Silky has firmly told me to be more professional in my predictions and actually predict something rather than doing my Snake Jazz hypno dance but that would require an understanding of the game lucky I have Cecilio to explain.

1. DSR - ESHIN - BLACKCAPS



The Dirty stinking rats are back, for the past 2 seasons we have called them rash like, but with them stabbing their way into the Quarterfinals of the Sucker cup and also the semis of the Wilkinson Sword play off where they took a beating from the Griffons. This year has been noted as the year of the rat with all four clans represented and Silky demanding a fight off at the end of the season. Players to watch would be all of them with the weapons they carry but Kakuzu IV is an exciting prospect though surely it is time for his fifth incarnation also will Kidnap victim ever be rescued? So Cecilio what do you think about this team.

Damn rats filth not fit to grace the hallowed turf, damn them I tell you damn them.

Sorry but we have to make predictions at Silkys order so..

They will top their league but we all know they are not worthy of holding the sword and will fall in the semis.

2. BLIMP - VALKYRIE - BLUEMILLiION MILES



The Blimp surface again and these Valkyries mean business, they are mean and I mean it. They have a nasty streak and seem to enjoy fouling the opposition off the park, of course we love it. The Blimp performed well last season and with the first season under their Metal britches surely they will not flounder this year. Over to you Cecilio….

Damn these women not fit to grace the field...it aint right I tell ya.. We smashed them and they will fall again. Many a brave Myrdia man was trampled by these Harlets and the league will be ready for them. Mid table I say…


3. Tallahassee Rattlers- SNAKEMEN - MIYUSO



I must say I have a soft spot for this team that arrived in the Secret Smack competition and though they struggled to make an impact in the Tropical Hot dog night division what a culture they brought with them. The Snake Jazz was mesmerizing and I feel Silky himself with be looking for royalties on their next recording (he does remind me of Simon Cowell-ed). The Rattlers showed a wee bit of bite. David Maningo and Cameron Sapp are the leaders of the band and do not look too closely at them. So thoughts Cecilio.

Snakes, Rats, Woman what kind of forsaken battle ground is this. All the Snakes will be chased from these Isles mark my words. They can take the Mullet with them.

MS: It is going to be a long season up here with this fella.


4. Gaen Von GRIFFONS - AVELORN - FOOL



Well I do not know if I want your thoughts on these Cecilio, but guess we best fill our contractual agreements. Well this team is the closest thing we have to Osbbl royalty (apart from the Mounkain Kings-ed) having graced the comp for the last 3 seasons they dominate most the statistics with their legendary players. The only thing they didn't have was silverware and they addressed that by sealing the Sucker cup. Huge questions remain over who will return and who will retire to fight other noble fights. Like a hydra though you remove one star and another returns. Early reports are that Boudica returns to lead the side to the all too elusive sword. So this lot ended your career thoughts?

These most noble handmaidens gave me a soldier's death and for that I am eternally grateful though this new torment I must endure is beneath me. They will seal the Sword and infamany this year unless my own warriors can stop them.

5. LUNCHPACKS oF NOTRE DAMME - SYLVANIA - SMEBORG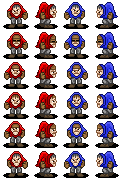 Lurching into the league come the lunch packs. An unprecedented mix of vampire clans and hapless villagers acquired on their trek around these mystic isles. These servants apparently can not refuse the angry baritone voice of these bloodless miscreants .Prima Donna Assoluta is our nimble lady to watch but do watch if she doesn't get her way. Apparently the rider she is demanding pre and post game is growing by the game. Cecilio you seem to have warmed to your new role, does the Lunchpack take your fancy?
Hideous foul vampires of all creeds and lineages working together give me a break, they will scare some of these lesser teams floating around the league but they will come to a sticky end mark my words. Nothing apart from a near miss of the playoffs for these fellas.

6.LITTLE TROUBLE IN BIG CATHAY - CATHAY - BARBERFETT



This crowd has seemingly been hanging around these isles forever. Popping up here and there to take on teams in friendly matches but never entering the full fray. They come in with a winning pedigree but a knack of not looking after their players. Yet with both Thunder and Lightning you better believe they are frightening. Cecilio the mystics from Cathay they will cause some trouble will they not?

This odd bunch with their strange ways and odd looking players they have surely found a fitting home and will threaten the play offs briefly before missing out on the Mullet (hearty laughing).

7. ORCS MUST DIE ANOTHER DAY- HALF ORC - BUNDER



These half orcs arrived for the secret tentacle smack and won their division seizing the tropical hot dog trophy but this hastily made gift from the locals was seemingly cursed and they pulled up short, missing out on the Smack itself. The half orcs look a good side and both Julia Nutsy and Diego Elderon lead this misfit outfit. They will be looking to deal out the punishment for sure. You surely are not keen on the green good sir.

A solid team that offer a good battle I would revel in blood spilled in such a match up they are a most worthy opponent and as such I feel they will reach the play offs.

8. TROUT MASK REPLICA - NAUTICAN - TRICKEY



What can I say I followed this crowd all last season and I am a massive fan. Initially turning up in a strange set of circumstances they proved themselves a tough nut to crack hovering into the midtable and at one point commentators were getting over excited and claiming them as a shot for the playoffs (you were that commentator -ed). The Giant crab Frownland is know to enjoy picking off tasty morsels while Moonlight on Vermont is still riding the crest of the wave of success. They entertain this lot but doe they have the sticking power my dear boy?

These sea dwellers need to move on and I think we will be dancing on their corpses by the end of the season they could threaten the Mullet but they smell off to me.


9. SIRENS SONG - NECRARCH - JPM



What is that sweet sweet sound, is it snake jazz why no tis the Necarch and they mean business. Osbbl has become somewhat of a haven for obscure yet talented musicians (goodness me do they even need a referendum-ed) and the Siren Song are the latest to join the eclectic soundscape (Honestly Silky cut the Snake he has lost it-ed). Though there sweet melancholic vibe will draw you in they are here to play Orpheus and Odysseus bring a steely swagger to their play which is enough to make most of the opposition quake. They are a threat indeed don't you think?

More Vampires really but I tell you these are formidable their first season in the league but I feel foe should not take them lightly as they certainly will contest the play offs.

10. TALL ORDER - PYGMY - PLANTING LEMUR



Apparently there has been a run on tiny body bag on the isles and have course Silky has been at the centre of this trade. Rumour has it after Tall Order signed the contract for the season Silky spent the entire week trailing up and down the lands to acquire all the contracts on sale of said bags. Tall order though are proud and fierce and are here to show the Osbbl that they can make a dent on this competition. Soaring Esteem carries the pride of the pygmy nation with him. Are they truly doomed Cecilio?

Iee that they are! They will have fun but not make it far in this competition.


11. CHEESE EATING MONKEES - MOULDER - MRCUSHTIE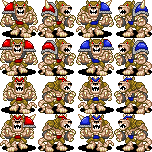 The Cheese eating Blender Monkees are back and they look as angry as ever missing out on the Mullet along with filling the Chum bucket this side have caused controversy with their disregard for the slaves around them. "Careless" and "Unfortunate" was the word of their coach but these words have not appeased the Osbbl public, though the public's response has been split. One vocal group wanting no more slave bloodshed with the other factor calling for more! Everyone wants Snuggles and he is the rat ogre that will be dealing the damage. You would worry seeing these in a dark alley surely Cecilio?

HA HA HA HA, Rat ogres clumsy unpredictable beasts nothing that a solid formation and a sound plan can not defeat, unfortunately there are not many teams to boast one or either of those traits in this blasted league. The Monkees will do better than many will give them credit for.

12. RATTUS iNVICTUS - CLAN MORS - FELIX



The red guard are here and they have a point to prove they wish to prove themselves worthy of the great clans and bring glory to the Horned rat and what more obvious place to start but the Osbbl. Qruon Black-Fist looks like a the well rounded player that will revel in the OSBBL environment and Skexi Snivelnose will be the one to back him up. A worthy opponent for you Cecilio?
Hmmm these rats are weak and puny no matter how heavy the armour that sits around there pathetic bodies. They will enjoy mild success but I can not see them making the play offs.

13. PUTRIDPROUD - CLAN PESTILLENS - KNINE


A stench and pox landed in the isles much to Silky's joy, the year of the Rat he called it and decided on a twisted competition to end the season that would see all these clans battle it out. The PutridProud represent the filthiest of the broods and the monks Leopold and LOUIS XIV will be a thorn in many sides. Along with there whirling Censor bearers I feel this side will not draw in an away crowd and if you can see them on Cabal vision it will be very hazy. How would you plan against these oh noble soldier?

We would burn them with fire lots of fire is that allowed? Well they will be difficult opponents and I can see them threatening the play offs.

14. SISTERWIVES - SISTERS - SHARPER



The devoted sisters of Sigmar are back but a whole new chapter. They will yet again revei in the madness that is Osbbl as they look to vanquish the darkforces from the Isles and man there are some dark forces here this season. April looks like the kind of player that will be added to the ranks of famous female stars in Osbbl. April is your favourite month I hear Cecilio!

Yes it is hard to look past April isn't it, these noble servants of Sigmar will bode well in the league and I feel they could even go the distance?

15. Banda Sagrada de Magritta- MYRMIDIA - ARTHURWYN



Ahh the runners up in the Sucker cup and a team close to my dear co-hosts heart. These warriors enjoyed a middling performance in the league and bore the embarrassment of being beaten by Squigs. This though seemed to be their rallying call and whatever was said after that game propelled them through a tough set of matches before taking the Gaen Von Griffons to extra time in the Sucker cup final. The troops look battle weary but Ademar Garcia Menendez and Hernán Rodolfo Ortiz will surely muster their men for one last assault. So we would love to hear your thoughts on your old team mates.

What I would do to march with them again and not be stuck here. We will fight to the bitter end an I feel that The Sword will be ours.

16. DOWN UNDA THUNDA- SQUIG- D_ARQUEBUS



Well we were uncertain what happened to the Squigs at the end of the season it looked like they hit the Fungus wine having being crowned the most successful squig side to grace Osbbl, especially after the classic win against the Myridia warriors. The Squigs are threatening greatness yet they also threaten simply to defecate over the paddock, you just never know. Osbbl loves a Mangler squig and though he isn't a Henri Acca Dacca will be causing headaches to a few coaches. I am sure you love the squigs my friend.

These are worse than the damn vermin. They will meet there maker this season..

Why thank you Cecilio though Squig certainly seems your trigger word what can I say you have filled your co host position with military precision. So lets just quickly look at the split on the leagues.

The Griffons conference compiles of:
Gaen Von Griffons
Troutmask replica
Banda Sagrada de Magritta
Talahssee rattlers
Little Trouble in big Cathay
Sisters Wives
PutridProud

The Bikini's conference comprises of:
The Blimp
Thunda Down Unda
Cheese Eating Surrender Monkees
Lunchpacks of Notredamme
Orcs Must die Another Day
Sirens Song
Tall Order
Rattus Invictus

I myself am looking forward to enjoying a season spectating the madness to come who knows what tales we will have to tell.

Stay weird Osbbl Peeps.
Trickey



Joined: Oct 10, 2018


| | |
| --- | --- |
| &nbsp Posted: Aug 09, 2020 - 12:12 | |
---
This is the Mascara snake reporting live for Griffiths Park
The Trout mask look to take on the Putrid skaven.
All spectators adviced to wear masks provided.

I am here with Cecilio what do you think?

"Do you always take the tortured spirits to see this shower of trout!"

Yes Yes I do.

So the 2-2 in the long run with a brutal match the Troutmask kicked and scrambled to put pressure on the putrid Proud. Removing the hard hitting Censor Bearers early was not enough to keep Louis the XIV out of the end zone. She's Too Much for My Mirror though previously unheard of managed to make a name for herself scoring twice ether side of Botha's score.

At 2-2 with the PutridProud on the ball suddenly Pachuco Cadaver was heaved up the field by Dachau Blue. Though he harassed the Ball carrier the Skaven scrambled to hold on for the draw.

What a game.

What do you think Cecilio?

Rats and Fish do not mix I am glad I can't smell.