Goblin One Turn Touchdown

To make this work you will need 5 players, one of them will have to be the Fanatic another needs to be the Pogoer or just a Ma7 Goblin.
1. Set up your 5 Goblins Leave one player back to fetch the ball and get it to your Pogoer, try and do this as the first action. Also position your Pogoer as central as possible but still not in any tackle zones so getting the ball to him is as easy as possible.

2. Once your Pogoer has the ball, use your fanatic to block him and hope he rolls a push back with his 3 dice block.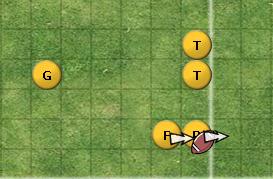 3. Repeat this until you have pushed your Pogoer 4 square into the opponent's half, then run down the field and score.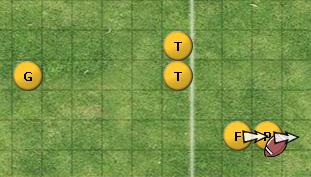 4. Don't worry if your randomised movement misses the Pogoer, you can go for it twice with the fanatic as well so you get two chances to miss. This is also made a lot easier if your Pogoer has Side Step or your Fanatic has Grab, then even if you miss twice with your Fanatic and go in front of the Pogoer you can then double back and hit him, then use Side Step on the Pogoer or Grab on the fanatic to keep moving forward.

Last update: August 28, 2013