FUMBBL offers a scheduler which converts from your specified time zone to simplify scheduled leagues and tournaments and let other coaches know when Upcoming Matches will be played.
Once you are involved in a scheduled tournament, a line will appear below your team in your coach overview, for example:

In this case, my Bibali Blackhearts need to play coach doomspider's Burkesburg Footpad Club. The three obvious link there are:

 The word Scheduled which would take me to the League or Tournament in which I am scheduled.
 The word doomspider which would take me to that coach's overview.
 The word Burkesburg Footpad Club which would take me to that team's page.

The less obvious link is to the left of the word Scheduled (
) That clock icon is a link to get you into the scheduler.
Here I've selected the clock link while scheduling a game with a different team.

Once my next opponent and I have agreed upon a date and time to play, I simply enter the date and the time (for my timezone), and "Your status" should flip to 'Suggest'. Select 'Ok' at the bottom of the dialog.
On your opponent's side, they'll see:
and be able to Respond seeing a similiar dialog:

Once complete, you'll both easily be able to see when your game is scheduled to play on your coach overview page:

AND, as promised, other folks will be able to see when you're scheduled to play to cheer and throw rocks: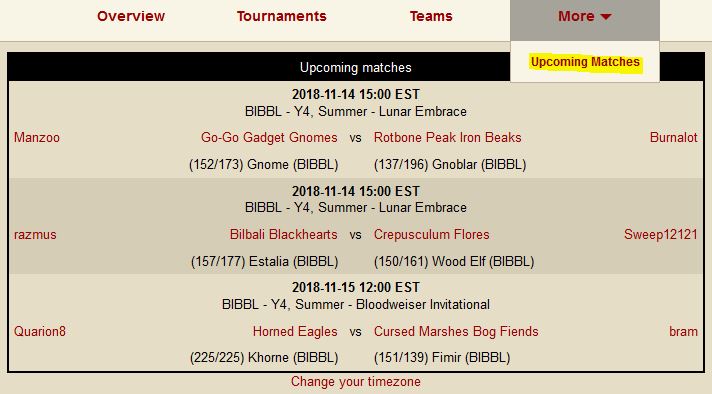 Last update: November 20, 2018