ramchop



Joined: Oct 12, 2013


&nbsp Posted: Apr 24, 2022 - 06:01


FUMBBL Staff
---
SWL XCI Premier
Game 3: GreySquirrel's Human "Ostland Horns"


Turn 5: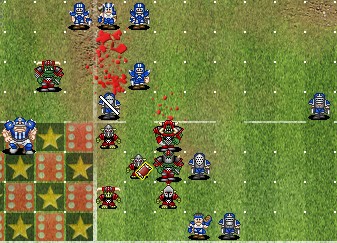 <ramchop> this is horrific
I didn't actually say that this time, but things were progressing in a similar fashion to the first half of last game. Three BOrcs off the pitch and the Troll too.

Let's skip ahead to the end of the match before returning to the Houdini act...

My last turn of the game, no rerolls left. A 4+ dodge to stop the score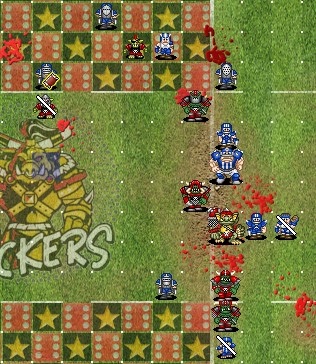 Woodridge starts a Blitz Action.
Woodridge targets Felix Bressart.
Dodge Roll [ 3 ]
Woodridge trips while dodging.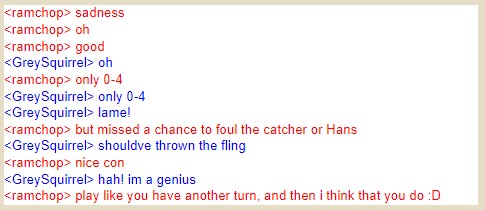 Never has a whistle sounded so good. And the Houdini act of Turn 5? Clearly, the less said about this game the better.



Full Time: 0-4 (0/2/0 - 2/2/0)
ramchop



Joined: Oct 12, 2013


&nbsp Posted: May 06, 2022 - 22:42


FUMBBL Staff
---
SWL XCI Premier
Game 4: Bobs' Orc "Dirrty Duzzin"


There are Fun coaches and then there are "Fun" coaches.

Fun coaches are great, they bring an amazing spirit to the game. Typified by a chuckle, a laugh that can't help but make you smile. A gleam in the eye of pure enjoyment. Sure they might bring strange builds, low tier, silly stars. But they understand what this means. They'll play hard and will enjoy the game win or lose, and this attitude is infectious. You'll lose to them sometimes and when you do you'll be happy for them. The Fun coaches.

"Fun" coaches are a blight. The type who begin an encounter with "If I cared about winning, I wouldn't bring goblins". The façade often crumbles after a couple of turns when things don't go well. These are the people who moan, and I mean really moan about dice. The type who will concede or click through a game against the only international visitor at a table top tournament. The person who will quit the game multiple times "never to return", place his team under the front wheel of their car and drive back and forth over it. "Fun"

Where is this going?

I brought Morg.
Spent a significant portion of my treasury on a nuclear warhead. If I wasn't going to win this game against the reigning SWL Champ, at least I'd have Fun doing it. "Fun"

Man I was on tilt when things went badly this game. I hope it didn't show through in the chat. It's one thing about FUMBBL that is a blessing. Throw your laptop against the wall in a fit of rage and your opponent will never know (well, maybe, if you don't have a spare laptop).

SWL is my ultracompetitive league and I need to treat it with that level of respect. I'd love to be a Fun coach, but I won't let myself be a "Fun" coach.

Black Orcs will take a bit more thought than just kill all mens. It's a puzzle that Morg won't solve, but one I'll spend the time on to at least try to find most of the pieces. The GGs will get to 100 games (yes, I'm a masochist too).



Full Time: 0-3 (0/1/0 - 1/0/0)





Bobs has an interesting team build. Maybe if I get to Prem again I'll discuss it in our next encounter.
ramchop



Joined: Oct 12, 2013


&nbsp Posted: May 14, 2022 - 10:57


FUMBBL Staff
---
SWL XCI Premier
Game 5: JPMs' Underworld "Styx and Warpstones"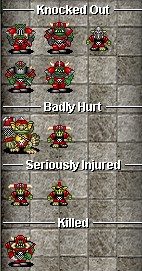 Ha! This? This is nothing. You should see the other guy.



Full Time: 0-2 (0/0/1 - 2/1/1)
ramchop



Joined: Oct 12, 2013


&nbsp Posted: May 21, 2022 - 10:51


FUMBBL Staff
---
SWL XCI Premier
Game 6: Miyuso's Tomb Kings "Ophidian Infidels"




"Khemri-an-elfing"



A line in the first four editions of
12 days of Christmas - a FUMBBL carol

But not the 2021 edition? Why not? Maybe a slick Khemri passing play would come 5 months too late, and secure me an undesired last place in Prem?

.....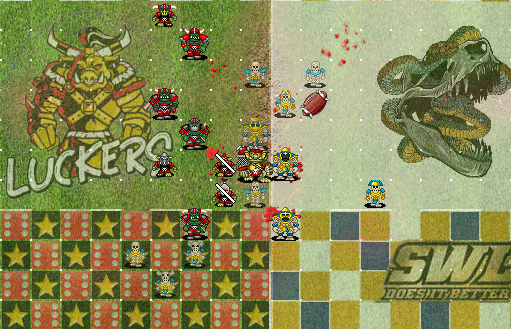 Nope.

I'm still not playing so good. After collecting the ball, the blodge goblin was left wide open for a Tackle Blitz-ra hit. Nuffle saved me.




and Miyuso decided not to reroll it.
Goblins were also blessed with a very good dodging game, Tomb Guardians cursed with many skulls and both downs.

But I'll happily take this one.



Full Time: 2-0 (0/2/0 - 2/1/0)