ArrestedDevelopment


Joined: Sep 14, 2015


| | |
| --- | --- |
| &nbsp Posted: Jun 06, 2017 - 13:23 | |
---
HeARR ye! HeARR ye! And welcomes to this, the 22nd season of ARR! Title glARRiously bestowed upons us, by vitue of the FACT that the last box majARR was WON by an ARR team. So CLEARLY this is the stable of the bestest teams... (

that or our commish is a tailcoat grabbing, glory-hunting git, attempting to piggyback on the success of othARRs)

.

This season is merely 6 days (well not quite, 5 days and whatever hours) underway, and already we have a very strong stARRt to a sprint by some pointy-eared, long toothed gits... and it's not any of the usual suspects!



The ARR Sprint





Racing ahead of the group, having only just returned to fumbbl, is rpoppy's

Vampiros revientaojetes

, who're pretty much dominating their low and mid-tv matches from the get-go, and have some pretty fearsome vampires already. GARReat stuff from our initial leadARRs... 7/2/0 32pts




In second place anothARR seldom seen entrant, kilikarsnord's

Loquitos salou

are coming from below to bite at the heels of our leadARRs... or mostly look over their shouldARRs 2/1/1 11pts




In thARRd place so far, and playing at the highest TV of the three, Espionage's

Heavy Load Toads

leap their way ahead of the chasing pack and sit just behind the undARRworld... 2/0/1 9pts



Stunty Sprint





Top placed stunty sprint so fARR is Manzoo's

Ranky Outsiders

, who've started strong, but are being solidly chased by Miceycraft's

Pirates of Bogwash

and I'm sure

I Gigietti

will show up eventually



Or perhaps Dirold is simply quite busy defending the fling title for the moment with

I Batuffoli Malefici

leading that particular battle.

Brogre race... is quite quiet. And currently being led by Espionage's

Sushi and Sumo

, who've yet to manage anything beyond defeat, but let's give them credit for finding the pitch!





Majors Updates


Black cup is soooooon upon us folks!
Your chance to win this
shiney badge and join the New Vamps on the Blood and House Craban's coaching staff as MajARR winnARRs!



RemembARR, if thARR is anything you want added to ARR world or wish to see ARR stand up fARR (or if you just want to be more involved), all you have to do is speak up!

OvARR and Out!

_________________


ArrestedDevelopment


Joined: Sep 14, 2015


| | |
| --- | --- |
| &nbsp Posted: Jun 06, 2017 - 15:22 | |
---
Should also note that last season, Tussock's

Ruthlessly Efficient

became our third recipients of the

after Tykoonfranky's

Bulboniks le Retour!!

and Cdassak's

Holiday in Gombodia

.

_________________


keggiemckill



Joined: Oct 07, 2004


| | |
| --- | --- |
| &nbsp Posted: Jun 08, 2017 - 05:22 | |
---
Woot Woot!

_________________


The Drunker I get, the more I spill




"Keggie is the guy with the bleach blond hair that gives answers nobody else would think of."
Jeffro
ArrestedDevelopment


Joined: Sep 14, 2015


| | |
| --- | --- |
| &nbsp Posted: Aug 01, 2017 - 12:08 | |
---
We ARR fully into the sizzling peaks of summARR now (apologies to our SouthARRn hemisphere brothARRs!), and pARRticipation in box is down as a result, but the show must go on!


11 Completed sprints!

Let's get down to the awARRds!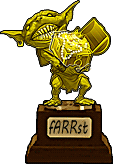 Mrt1212's

Coca Loca BBL

, bust out a quick sprint like they were on some sort of... marching powder, then retired to rumoured slumber just as quickly. The EPO of old has been exchanged for flat out 'roids, but the TV remains sky high. As does their coach when he plays, no doubt! And it was that high TV that gives them the no1 spot

51pts (11/2/3)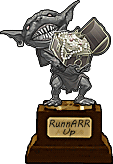 JackH's

Sunny Shaders

, come, not so much biting at their heels, as ripping their faces off, in second place. The Vamps piecing together an impressive sprint, and only lately gaining the sort of steroid enhancement we've been used to seeing on pointy toothed powARRhouses in the past! Miss out on fARRst purely on TV difference. 51pts (11/2/3)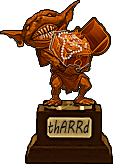 Harad's

No Frog or Jump Related Puns

complete ARR top 3. MinARR celebrations no doubt at the spawning pool as an apothecARRy was finally purchased. And with him on board, as well as some healthy +stats, these frogs ARR now slowly making their way into a formidable little team! ThARRd place for the second season in a row! 50pts
(10/4/2_

...



Stunty sprint


Was deservedly taken by Endrophil's

Disgusting Toilet Burble

, who were one game off of a complete sprint, mostly played at mid-tv. The little goblins (and yuuuge trolls) have surprised some opponents, and given a hard fight to many more! 28pts (3/4/



Winners of the Halfling sprint! - Dirold's

I Batuffoli Malefici

continue his habit of appearing in these seasonal round-ups with another spirited performance! Though they only completed 9 games, they did garner a respectable volume of points, and it was good enough to top the field... 19pts (3/1/5)

The Ogre sprint was taken in the end by Espionage's

Sushi and Sumo

, who bashed out 7 games and rested on their laurels waiting to see who could catch them... and no one did! The ogARR sprint is usually quiet at the best of times, and no surprise that not even a half-sprint was good enough to win this in summARR, but Sushi and Sumo won't be caring, they all count! 12pts (1/2/4)

Full standings are available here

All othARR top ten finishers can claim their loot here: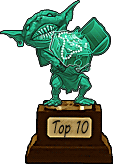 That'd be MattDakka's Loec's Lynces, rppopy's Vampiros revientaojetes, MattDakka's Asuryan's Phoenices, Kilikarsnord's Loquitos salou, Chimp2010's DLE Dodgers, JamesFriend's Elf Gurus and Harad's Elusive.


EvARRyone who completed a sprint (16 games) can claim this: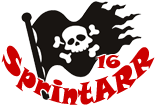 And as always, we can't be ARR without allowing some to lAARd it ovARR othARRs, so all top three racial finishARRs can claim the appropriate badge: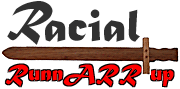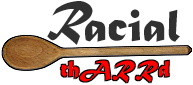 If you wARR a brawl winARR in the last season (or previously but haven't added the badge), then this one heARR is for you!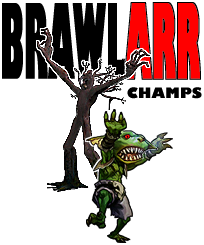 Congratulations also to Cdassak's

Ninjazz

for winning XFL Slann and proving they aRR simply:



And commiserations to Okostomi's

Nuevo Ricos

who went oh so close to winning it all in the Black Cup!

New Season thread to be posted SOOOOOON, Thanks to all and good luck for this season!

_________________