From Freebooters to Freebasers - a look at performance enhancing drug use in FUMBBL.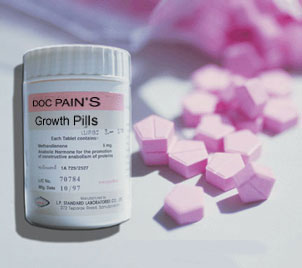 Doc Pain of Doc Pain's Mean Machine has come under the watchful eye of the recently formed FUMBBL Oversight Committee for Substance Abuse with his so-called "growth pills." Although prohibitions on magic have been strictly regulated and only recently have anything other than necromancers been allowed near the pitch with wands in hand, the regulation of potions, pills and elixirs have historically escaped the attention of FUMBBL referees. Of course, lots of things escape the attention of the refs, like the odd boot to the skull and the occasional chainsaw, but hey - it's all part of the game, right?
Turns out that growth pills (also known as performance enhancers, or steroids in the alchemy community) have started to see increasing circulation among the players of Blood Bowl teams. Some coaches, like Doc Pain, make no bones about giving their players an extra edge on the field but others (while certainly making bones) attempt to be much more covert about their use of so called performance enhancers. Take for instance Mr. Moonlight, star Zombie of the Killers of Mr. Moonlight. His stat sheet claims his strength is about that of an average Chaos Warrior (already formidable for these shuffling blocking dummies). On the field he can stand toe to toe with a Mummy. Clearly, his coach has something to hide. It may be possible for strength training to show some improvements, but there remains an upper limit for Zombies (typically when the weight snaps the arms right off of their rotting corpses).
Performance enhancers are not just in use by Undead teams however, and coaches may not be the sole source of blame. Peer pressure appears to be a strong force behind the closed doors of the League Of Extraordinary Gentlemen locker room. Star catcher Busta has been accused by opponents of taking a designer steroid for years and recently Cube and Aragorn seem to have joined him. When asked to comment on the activities of his players, owner Saruman The White held up his hands and said "What can I tell you? I've had ten players from various teams I own show up at training camp with some extraordinary increases in strength. I don't dictate how they improve, all I do is offer an incentive structure."
* * * Did you know...
One of the more brazen feats of drug-taking on FUMBBL happened on the night before a game involving the
Terrifying Anarchists of Naggaroth
. Star blitzer
Nestor Wakhno
, who has his fair share of niggling injuries, took his team's anarchistic creed a bit too far when he ingested some pills he had bought at an underworld bazaar from a seedy-looking chaos beastman. Instead of curing his niggles, as Nestor had hoped, when he woke up on the morning of the game he had suddenly grown a healthy crop of tentacles... but they were growing from his groin! Needless to say, he locked himself in his room in mortified embarrassment, telling coach EvolveToAnarchism that pain from his injuries was preventing him getting out of bed. The story has a happy ending, because although the tentacles did eventually disappear from view, Nestor has mysteriously become a big hit with the witch elves...
Indeed, in the high stakes world of Blood Bowl there is tremendous incentive for players to gain an edge. Some who are open users of these performance enhancers pull down three and four times the salary of starting position players. Whether the pressure comes from owners, coaches like Doc Pain, or fellow teammates like Busta this is a phenomenon reaching epidemic proportions, with some potential for long term impacts on players who use them.
The side effects of performance enhancers are a subject of continued debate. Some experts cite that members of Undead teams report more sluggish movements, an inability to sleep, loss of what little flesh they have left, and reduced reproductive capacity as benchmarked against their former living selves. Others claim that this research is comparing "apples to oranges" and refer to the unspeakable evil that has restored a sham of life to their corpses as the source of many of these complaints.
As FUMBBL considers a rules revision and the oversight committee examines some of these issues, players are already planning ahead. Some Ogres have already discussed strapping Goblins to the inside of their thighs for the proposed mandatory urine testing, getting their small "clean" friends to lend them a necessary sample.