Demise of DivX?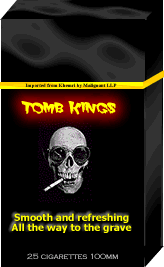 As this statistic will show you, DivX got a huge boost last year in April. Since Khemri and Necromantic teams have been given the green light to play in Open division, DivX is a desert populated by tumbleweeds and little else. Is DivX doomed? Can only new "officially" experimental teams save it?
Now that Khemri, Necromantic and Elfs are in open and pact teams are no longer officially experimental, DivX FUMBBL has dried up. Few games are played there except for a lone brave stunty coach. No one wants to play against Ogres. Vampires' gazes were nerfed last rules review, and interest in them has dimmed. Hopefully there is a glimmer of hope for DivX.
Sources say that secret weapon positions may become officially experimental in the next Blood Bowl Magazine. That would allow implementation of these mayhem-causing linemen in DivX. Dwarves with chainsaws! Treemen beware! Along with this, there is the rumored Playtesting Vault that might happen over at Fanatic.
Sources say that the Playtesting Vault will be a place to try out officially experimental rules. Using DivX as our testing ground may be a key to enhance DivX interest. FUMBBL's feedback should be important to the Blood Bowl community as so many games get played here. If we do match DivX rules to the Playtesting Vault's rules we may become a important source of information for guiding the future of Blood Bowl.
DivX will not become a league we can personally experiment in. My own quest to get Brettonians into DivX was stemmed before i could say "Tis only a flesh wound." Another DivX Cup may be in the works, so if you like playing in tourneys you might want to get a DivX team in the TR200+ range to compete in it!