Admin Corner
"The biggest unanswered question is: Where is the money?"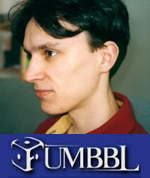 I'm sure you have all seen the PayPal donate button on the site. You may also have wondered how often people donate and how much donations have been accumulated over the year and a half that the donation button has been on the site.
FUMBBL runs on a server with a 1Mbit upstream connection to the Internet (which means that the server can send about 120 kilobytes of data per second to connected users). This connection costs around US$55 per month. The hardware that the site runs on has been purchased completely with donated money (roughly US$1200 in total).
At this point, the FUMBBL PayPal account holds around US$500, which would cover the running costs for the site (bandwidth costs) for roughly 9 months. This figure assumes that there will be no need for any more hardware upgrades/replacements and that the donations would completely stop right now. Neither of these assumptions are very likely though.
I usually don't force the donation issue too much, as people tend to donate enough to keep the site running without me having to push anyone into it. Back when FUMBBL started becoming popular and the old hardware that the server was running on couldn't cope with the traffic anymore, I asked the community for donations to get a new server. The response was enormous and I were quickly able to get a new machine. Knowing that so many appreciate the site enough to donate a whole load of money to keep the site running is truly heartwarming. This is also one of the reasons I don't like to stuff big banners in your face and force the donation issue on you. If I really need money for an essential hardware upgrade or some other reason, I know that all I need to do is to ask and a lot of you will come through.
Of course, I have played with the thought of how much money would be made available if every active coach would donate as little as US$10 every 6 months or so. That would quite easily allow me to switch to a high-end hosting company running the site on a quite powerful server. Naturally, a setup like that would cost quite alot and very likely be quite a bit of overkill. But oh, how fun it would be! :)