Wanted
"Home to millions of species, including humans, Earth is the only place in the Universe where life is known to exist." (wikipedia, 2010)
Dear Humans,
I write this letter on behalf of the GIA, the Goblin Intelligenze Agenzee. We identified project "FUMBBL"as the current world government, therefor we adress you with this matter. As to our knowledge currently about 15.000-20.000 extra-terestrials live amongst you, the strongest races displayed within your society currently beeing (the brackets show the prefered residence):
Skaven, pop 6000 (New York City)
Goblins, pop 2600 (Ireland)
Halflings, pop. 4000/2 (Italy)
Norse, pop 1900 (Scandinavia)
Dwarves, pop 1400 (Switzerland)
Khemri, pop 1000 (Egypt)
Vampires, pop 400 (Romania)
They live as inividuals or within small groups, mostly using a simple disguise, though some seem to enjoy your ignorance.
All this is none of our concern, however the goblinoid society is threatened by terrorists. Lunatics, bombers, maniacs! We have information that "Earth" is the current threshold of Resritch, a highly conspiratious individuum. He is searched within our realms for financially ruining several companies, amongst them "Grotty Worseshop", "Gits Worldwide" and the famous "Geek Warehouse". We have not located his position yet, but finding him is in both our species interest, we fear a conspiracy against our government as much as you should fear this creatures influence on your economy.
Little is known about Resritch, but he is said to be a very incinvenient person. I Hereby send you a picture of the vilian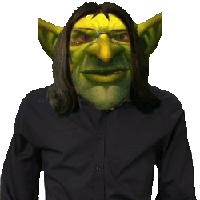 Helmut, "Outer Stunty Department – Section 3c"