The world Fame Seeker Adventure - E.L.F
Hallo GLN readers
My name is Zhorn Famezeeker. You have already heard about me, I am sure of that. So I should not need to introduce myself, but I know you all love to hear about me. I am in family with Grotty and Grotty needed my help with covering what is going on in the world. I have traveled every places worth to visit, so I know quite a lot about everything and everyone. Quite impressive don't you think? What is nearly as impressive as that is my cape. Please take a fine good look on it, you will not be able to forgot it ever. So if you have any question regarding life and the world, or simple need my view and take on things. Do not hesitate to seek me out.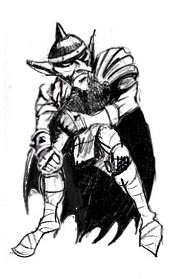 So first article that I will cover for the GLN is Frogs (aka Slann) and E.L.F.
There seems to be a great confusing among people as to why Frogs are not in E.L.F. Several claim that Frogs are not an Elf because they have no pointy ears. But do not fear anymore, I Zhorn Famezeeker do have prove of that Frogs do have pointy ears.

Not only is this hard proof, but if we take a look at where they live. Then they both lives among trees. "But Great Zhorn Famezeeker, Frogs lives in Jungles or swarm, not a forest" Jungle trees, swamp trees, forest trees they all burn. Not at all different at all. Only thing is what tries to prevent you from cutting the trees down.
So why are the so called founders of E.L.F preventing Frogs to join them. What kind of grudge do they have? As I have traveled the world wide and know more than common people, then I want to tell you the true name behind E.L.F. as the original founders made. E.L.F stand for Elves Love Frogs league. Yes that is the truth people! I know it, now you all know it. So it is time for Frogs to finely be able to join the league again as in old days.
But to be honest with you people, I do think that Frogs belong more in a bowl of soup than among slimy elves.
Yours truly beloved
Zhorn Famezeeker
PS: We could not find out cooking book, so instead we have a video for all of you frog lovers