Editorial
Hi, and thanks for picking up the seventeenth issue of the Grotty Little Newspaper!
Once again, our staff have been working hard behind the scenes to bring you all of the best stories and content from across the world of FUMBBL and beyond. It wouldn't be right not to headline our exclusive interview with the main man himself; I heartily recommend that (after first finishing my drivel) you dive straight into the GLN's latest illuminating catch-up with Christer. What makes BigC tick, and what does the future hold for everyone's favourite BB website?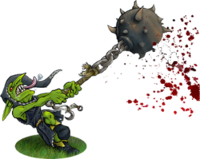 Our sit down with the big cheese isn't all we've got for you this time, and whilst it would be slightly unprofessional to pick favourites, it's lovely to see an overview of the British based White Isle League and their struggle against the Oceanic Southern Wastes, the URN. We're always keen to shed any light we can on the superb user content and leagues on site, and we also have a look at the new season of the innovative DLE, the Draft League Europe. Three groups there worth your while looking up on your next trip to the [L]eague forum.
As ever, the GLN has come together organically, and this time we have some really good content with which to stretch your little grey cells. Some of the site's finest have come together to talk through an interesting in-game situation, and it's a fine exercise in Blood Bowling strategy to unpick their thoughts and see if you would have the same plan in the same position. We have a tactics quiz and even a crossword to keep you going over those long lunch breaks or other convenient non-FUMBBL time. Grab a pen and get stuck in! There is also some fantastic fluff in this issue, especially for those with a love of all things Goblin. So - something for everyone!
The GLN is not a one man band. Every coach that has given up some precious free time is a hero, and their contribution to the GLN's rich tapestry and history is much appreciated. If you see any of these fine fellows in IRC, the forum or (more likely) slumped over the bar in a pub, give them a hearty clap on the back. A special mention for Kam, who weaves some sort of magic to stitch together a load of words and images into magical computer mumbo jumbo so the thing looks neat and pretty. I'd burn him as a witch, but he's just too useful!
Any ideas? Contributions? Feedback? Abuse? Well, all but the last one are welcome, please join us in the GLN forum.
Enjoy!
Purplegoo (da Editor).