is an acronymn for the Stunty Professional Leeg and Tour. S.P.L.A.T. is a exciting new meta-group designed to encourage diversity in the broader world of Stunty. All coachs with two qualifying* Stunty teams are welcome to join at any point during the season. S.P.L.A.T. allows you to play any Stunty opponent, at any time, and at any team value. Worried that you'll have a bad game? No need. If you have a bad game or two S.P.L.A.T. only counts your best five games for each team. If you think you've got what it takes to muscle your way to the top of the Stunty Leeg, join the Second S.P.L.A.T. season now! S.P.L.A.T. Season 2 will begin on October 25th and run until December 12th
Season 2 Final Standings and Awards
Structure:
Each coach that enters S.P.L.A.T. will play 2 different stunty races a minimum of 5 games each over a two month period. If a coach plays over 5 games with either team, only their best 5 games with each race(by point totals) will be calculated for their final score.
Games:
Games played against any Stunty Leeg team, during the current Season, will count even if the opposition isn't in S.P.L.A.T.
Scoring:
These points are scored just by the recording team
10
Points for a Win
4
Points for a Tie
3
Points for a Loss
5
Points for a TD
1
Point per Casualty (add up the whole Casualty Scoring Line BH+SI+RIP)
These points are scored by BOTH opponents:
3
Points for a RIP recorded in the Casualty Scoring Line (on the game page listed as BH/SI/RIP)
2
Points for a RIP listed in the Detailed Permanent Injury List at the bottom of the game page
Scoring Examples:
Google Docs Link for Example 1 Here
Link to Google Docs for Example 2 here!
Link to Google Docs for Example 3here!
Scoring Modifier: +25% to your game total for your Uncommon team. If you choose 2 Uncommon teams you must pick only 1 team to represent your Uncommon team when you join a S.P.L.A.T. season.
*Qualifying Teams
In S.P.L.A.T. there are two groups of teams you can choose from. There is the Common Team group and the Uncommon team group. You may choose one team from each group or two teams from the Uncommon group, however you MUST enter two teams. You may not choose two Common teams. There are no Team Value or Tournament Weight restrictions for S.P.L.A.T.
Common Teams
1 Chaos Flings - 34

2 Squig Herders - 26

3 Gnome - 26

4 Skyre Slaves - 22

5 Forest Goblins - 21

6 Goblin Cheaters - 21

7 Gnoblar - 19

8 Nurglings - 16 (D6 Roll 6)
Uncommon Teams

9 Horrors of Tzeentch - 16 (D6 Roll 3)

10 Strigoyan- 14

11 Eshin Adepts - 12

12 Snotlings - 11

13 Pygmy - 11

14 Albion Fae - 9

15 Skink - 8

XX Grandfathered Goblins - 2

16 Halfling Professionals - 1

XX Grandfathered Halflings - 0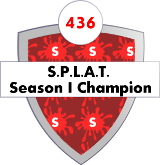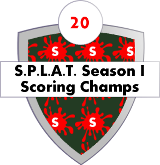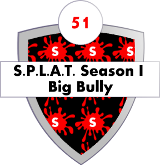 Overall S.P.L.A.T. Champion
Rarest of the Rare
(Overall Uncommon Group Champ)
Scoring Champion
Big Bully
(Casualty Champion)

The number in the circle at the top of each shield represents the number of points you scored in the category in your Championship season. Additionally the all-time record for each category is represented on these shields.
Season 1 Final Standings and Awards
For the inaugural Season, halfling Judge "Mountain" Blandis (S.P.L.A.T's commissioner and promoter) has chosen the Moot to showcase his new Leeg. "My vision is to open our Leeg in the Stunty stronghold of the Moot and then to tour our Leeg, bringing the bloody game to those who may have not embraced it yet," said Judge Blandis. Bookmakers already have odds on the location of S.P.L.A.T. season two with the Clan Eshin warren and Lustria as the odds on favorite.
Please contact
baelnic
with any questions