Check
Wikipedia
and
cyberpunk design
for inspiration if you want to fluff up your team.
Icons will have custom colors for each team - with some restrictions so they don't all look alike. It is also possible to create your own icons.
CDL icons
Information on joining CDL
If you are interested in joining write to
Hovring
on discord.
Procedure for new teams
A draft pool will be created for new teams, based on previous draft. You will pick from the very first draft pools where you will have the same options as the coach you replace. Players wil have the age they are at the time of entering the league - so if you enter after 3 laps, all players have aged 3 times. From the following draftpools you will be granted 2 picks as if you finished the league as number 4.
Expanding league to 16
At some time the league might be expanded to 16 players. A new draft with plaers of different ages will be created for that.
After each lap a draft pool with 50 rookies is created. There will be different player types, with no restrictions to how many of each type you pick.
The draft takes place after players have aged, retired and rolled for skills (see rules - Team development and player progression). Each coach then takes turns picking one player at a time. If you have a full team, you can either pass on picking another player or retire a player to make room for another pick. There is no limit to number of players you can draft - value of late picks will be low.
The draft order is decided by the final standing of the finished season, if you finished last you pick first in each draft round and vice versa.
A draft pool consists of:
- Blockers – (inspiration black orc blockers / dwarf blockers without tackle)
- Blitzers – (inspiration orc/human/elven blitzers, block/wrestle/juggernaut)
- Catchers – (inspiration is high elf catchers, with some having higher av and lower ma)
- Throwers – (inspiration is human/elven thrower with more skills)
- Special players – 3 types: steriod cyborgs (big guys), bioengineered stunties and cheaters
This document explains how players are rolled (not fully updated). And this is the draft sheet.
Player types will continuously be adjusted to supply and demand based on the previous draft:
- The more popular types will be more expensive and/or weaker.
- There will be more players of the popular types.
The opposite is applied to the less popular types
There is no trading in CDL, changing teams is frowned upon and a player would most likely be if they play for another team.
CDL matches are played under CRP and fumbbl tournament rules - no game options take place with the following exceptions/additions:
In game rules
- Claw does not stack with other skills that modify armour rolls.
- Right Stuff prevents Tackle skill when blocked.
- Sneaky Git functions as Guard on foul assists.
- Banned Sneaky Git players are sent to the KO box instead.
- You pick MVP.
Inducements
The standard rules for inducements are not used. Instead inducement will be halved rounding down to nearest 50k. This means:
- 0-90 TV difference: nothing.
- 90-190: 50K
- 200-290: 100K
- 300-390: 150K
- 400-490: 200K
- 500-590: 250K
- 600-690: 300K
- 700-790: 350K
- 800-890: 400K
- Available inducements: babe, re-roll, apo and bribe
Team value
Each draftee comes with a value which will be used to calculate TW. There is no TW cap on teams since aging, drafts, the league structure and inducements will balance the league.
Team development and player progression
Each team will have 3 rrs, one apo and 16 players. New teams will start with a fan factor of 5.
After each lap a player gets older and age and adds 5 spp from between lap training, which are added to their earned spp - see progression table.
Progression table
| Lap no. | Aging | SPP |
| --- | --- | --- |
| 1 | No effect | 0 |
| 2 | No effect | +5 |
| 3 | No effect | +10 |
| 4 | No effect | +15 |
| 5 | No effect | +20 |
| 6 | Decay | +25 |
| 7 | Decay | +30 |
| 8 | Decay | +35 |
| 9 | Retire | NA |
Injuries, retire and free agents
- Players don't miss games they get drugged, hence all MNGs are deleted.
- All permanent injuries stays.
- After each game you can decide to pick a free agent from the free agent pool and replace him/her with one of your own players. Free agents picked after the last game of a lap wont be added until after the draft, if the coach decides to keep him/her.
Replacements and dropouts
Between lap replacements: New teams enter the league in the lowest group. If the retired team is not in the lowest group the highest ranked team in a lower group, using team score, is promoted to the group of the retired team. This process is repeated until all groups are filled.
Dropout: If a team drops out and haven't played all games none of the games against him/her will count. Perms and spp will be kept.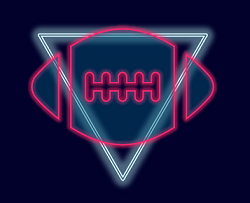 CDL is a corporate financed league set in a dystopic future on earth

Cyberpunk Draft League is a fast team development draft league set in dystopian world, where your talent on the field can get you of the streets. The most desperate gets mechanical bodyparts or drug themselves with steriods to qualify for the big league. Big corps are also experimenting at bioenginering kids at a very young age, creating the players who can dodge their much bigger opponents.