Season 2 is over.
League is in hibernation due to lack of interest in BB16.
With enough coaches, S3 will look like this:
The Bull DAWGZ conferenece is for North American timezone games. The Dingo conference is for Australia/NZ timezone games. Conferences will kick off when we have at least 6 teams in a conference.
Any team from any existing BB16 rules league can join, but it will be imported to this league's rule set (ruleset 6).
New teams welcome. No tv limit. pm knine to join.
Old DAWGZ has only one special rule: We treat our oldest dawgz with respect. If your oldest player (by game #s, ties broken by spp, then TDs scored, then CAS inflicted) suffers a serious stat injury or death, you can elect to replace that injury with a niggle. You may use this special rule once per season. pm knine.
If you are looking for the DAWGZ Secret League (BB2020 rules), go to the DAWGZ Secret page:
https://fumbbl.com/p/group&group=14838&op=view
There are some links in the table below to the MAD DAWGZ league. Feel free to join!
The Old DAWGZ league will have a playoff to see which coach is the "Big Bad DAWG."
While we are growing, it is permissible to play in both conferences, BUT: 1. you cannot claim a forfeit if you didn't make yourself available for an evening game in the relevant conference timezone. and 2. If both your teams advance to the playoffs, your filler does not go to the playoffs. Instead, the next team down the ladder goes to the playoffs.
There is no re-buy between seasons. If we get big enough, we'll go to a premier conference style set-up where the top two teams move up and bottom two go down, in a 7 or 8 team conference set-up.
Champions logo:
https://fumbbl.com/i/691333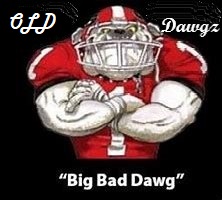 Location: Planet Earth
Nickname: Under DAWGZ
Stadium: Planet A
Surface: Grass


Colors: Red and White
Sponsor:
Rivals:




OVERVIEW

This league is for legacy BB16 teams. Any tv. New teams welcome.

There are two conferences: BullDAWGZ (North America) and Dingos (Oceania). It would be great to get some EU coaches for a third conference. We will adopt a premiership style conference set up if we have enough coaches.


RULES

Current ruleset is 6.

Win - 2 points. Draw - 1 point. Loss....zero!

Rules
1. 14 days to complete a round - dates will be posted on the tournament page.
2. Don't time out your opponent. Ever. Send complaints about slow play to the Commish. I'll then have a discussion with the slow coach.
3. The team with higher game TV readies first, ideally at least one day before the game.
4. MNG will be eliminated during the offseason. So if you get a MNG on a player at the very last game in the season, then ask group admin to remove it. Niggles get rolled between seasons as per BB16 rules.
5. Forfeits. Sometimes real life gets in the way. Unless it is clear that one coach made no effort to play the game, a forfeit will be zero points for each team. Note: missing an agreed game time without a good real life excuse = a loss. If it happens, pm knine with the story and the discussion thread between the coaches.

Playoffs: The top two teams in each conference play for the conference championship. If there is more than one conference, and if both coaches are keen to play the game, then we will have grand championship where the conference winners play for the overall championship and the crown of being called the "Big Bad DAWG".

Standings at end of season: Head to head first. After that: total #wins; then TD+CAS difference; then TD difference; then CAS difference; then least number of forfeits; then it's the truelly Nuffle way: coin toss.


MOST important rule: This is a game.... have fun. SECOND most important rule: Don't be a dick, ie be cordial and save your barbs for a face to face meeting.


PREVIOUSSEASONS

This group has run under different names in the past. Here are the winners:

Dawgz Breakfast DIBBL Builder - Winner:Industrial Rock n Roll - Coach Kransky
Dawgz Breakfast DIBBL Builder 2 - Winner: Gale Forze - Coach Knine
Under DAWGZ (SWL Fringe hosted) - Winner: Southern Waste Greenskins - Coach Sandune
DAWGZn the DIBBL - Winner: Norlanders XI - Coach lolvenom.
Dawgz Breakfast DIBBL Builder 3 - Winner: Mandatory Happines - Coach Kransky
Foul DAWGZ tournament - Winner: Blue Mountain Giants - Coach Clayfinity
Under DAWGZ (Unlimited tv, BB16 teams with Under DAWGZ rules) - Winner: Wellington Hipsters Collective - Coach Felix17


teams


Looking for Coaches!!!!

This Spells Yuor Dume! - Coach wintergreen

With Mayo (filler team) - Coach Knine

Manitoba Bizons - Coach knine

Loec's Loggers - Coach ArthurWynne
With Mayo - knine
Tuatara Pale Snails- Felix17
Dark Heretics - ClayFinity


*** Did you know...

The DAWGZ BB brand started in Oceania where team builder tournaments were run under the banner of DAWGZ Breakfast. Under DAWGZ was one of the tournament themes, and it branched out to gather in Legacy BB16 teams that were losing their leagues to BB20. It lasted one season. Now we are playing Old DAWGZ.