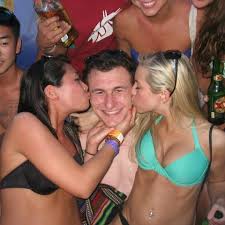 <<<<<Johnny hanging out with his fans after a match.
Johnny runs out of money and his fame has faded away. Did some time in jail, got addicted to warpstone and drank way to much. Then,the fog on his mind cleared up when he realizes he woke up behind a bar in a bed of rotten cabbage and he knew what must be done.
He grabs his old gear and heads off back to the Buccaneers to sign on for another tour of duty with the team. Second go around for our legendary catcher who somehow forgot all his previous skills and started off as a rookie again. But it is all coming back to him now.
<<< Johnny's first go around with the Buccaneers.
Johhny pulls off the OTS in match #15 to tie it up, then the Bucs take over on Defense and pull out the win late in the second half.
Game #43 and Johnny pulls off a miracle OTS with a glorious leap into the endzone.
Game #46 and pulls off another
OTS
, with Pass into 2 TZ on him, dodges out and runs to paydirt.
Game #47 and pulls off another
OTS
to tie up the match at the end of the first half and then the Bucs offense seals the win with a 8 turn stall in the second half.
Game #57 and he pulls off another
OTS
to equalize on the closing turn and secure the tie.
Game #58 and Johnny will not be denied. Pulls off the T16
OTS
to secure the tie against the Nandorins!
Game #67 and Johnny performs his most masterful game ever.
Opening round of the UI
. Pulls off a OTS, grabs two diving catches to keep the Bucs hopes alive. Epic game that Johnny was a one man army and carried the day into OT. Watch this replay to see one epic match.
Game #70 and Johnny is clutch on the opening turn of OT in the XFL second round.
OTS
to open up the extra period with greatness.
Johnny sends in the "boot" on this
CPOMB Abomination
and sends his ass to the RIP bin, the apoth runs out and says he has a sprained groin!! WHAT? Groin injury? OH, MY!!! Johnny cannot believe it.