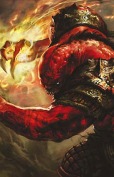 Horns
Claw
Block
Mighty Blow
Previous name: Alfred Duncan.

The team's scout and now assassin. His hands have mutated into claws that could shred stone walls. His kills are very bloody and graphic hence the name, Gore.

Game #24: Gained the Claw/MB combo after the game.

Game #28: Total and complete failure. 11+ blocks and can't cause a single casualty.