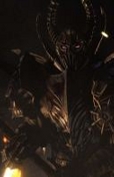 Previous name: Lord Drade. He is now known as the Deathknight, Dethacus.

The Captain of the Heroic War Band and now Lord of this cursed squad. Even though he was a natural born leader he led more by example. With his transformation he has lost the use of his voice but it is said he can communicate through telepathy.

Kills: 1

Game #33: Killed Seven of Sixteen, a Rookie Zombie from Unimatrix 99.