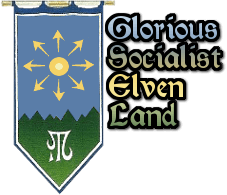 The Glorious Socialist Elven Land is a small realm in Ulthuan, dedicated to the sharing of the nation's wealth and rejecting the hierarchical nature of elven society. They wish to demonstrate the validity of sharing the wealth by playing beautiful Blood Bowl: distributing the ball as far as they can to those who can most make use of it, all benefiting from the labour of all.

Logo thanks to Albemouff


Current Legends
Elf Marx Thrower, Inspirational Leader for the cause
Elfy Catchman V Catcher, Astonishingly agile with his arguments
Bairuan Bevan IV Catcher, So quick, so nimble, such a nightmare

Past Legends
Olwe Owen Catcher, 189 SPP. Died trying to win a match in the Ulthuan Invitational by doing a one-turn touchdown. His dedication to the cause of socialism will never be forgotten.

Heroes of the Republic
Beleg Babeuf Lineman, 19 spp. Gave both of his hips for the cause. A true hero, now retired to the peaceful uplands.
Bairuan Bevan III - 112 spp. Perished in the Great Massacre of Game 111 (see below).
Elfy Catchman IV - 83 spp. Another victim of the Great Massacre of Game 111. Blessed not only with great speed but also a nimbleness of body that did his race proud, Catchman could have been one of the true greats.
Celeborn Castro Lineman, 81 spp. At the time of his death, Celeborn was the team's most-capped player. Despite a number of injuries which would have sent lesser elves into retirement, Celeborn was adamant that he wanted to play on. His work ethic remains an example for us all, that everyone should give what they can for the cause.
Haldir Hook, Lineman, 110 spp. Over 145 matches, Haldir gave everything to the cause, using the strength with which he had been gifted to act as a firm socialist bulwark against opposing arguments. His conviction was so strong, he was only finally felled by an illicit chainsaw: nothing else would ever topple him. Other than Elf Marx, he was the last surviving original team member, and he will be missed.

Game 111 - The Pyrrhic Victory
The Republic's 111th match, against a rowdy bunch of skaven, proved to be a costly one. Whilst the great leader Elf Marx broke the 3000-yard barrier, three of the team's heroes tragically perished and two others suffered career-ending injuries. With seven players remaining on the books, a number of whom are already carrying injuries, the way back to their former glories was challenging, but the survivors hold an inner fire driving them forward.