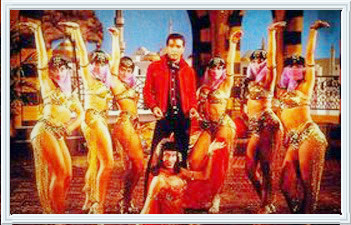 Elvis played in Memphis, which was then in Egypt. And greatly did the gig go down.
But afterwards Ramtut III did bounce mightily, challenging Elvis to the local sport of Bloodbowl.
Elvis walked onto the pitch alone againt the khemri side. He sang his songs and they felt alive.
And they were alive alright! They thrashed the khemri side!
Ramtut was not happy and jabbed Elvis in the face. 'Forget the pyramids, we're out of here!'
It is said that after this game, Elvis became a bloodbowl god alongside nuffle and is still
playing the sport alongside his tunes to this very day, taking on the dry and
barren land of the southern wastes, invading as a hero.
'There is no God but Elvis nor has there ever been.'- A very very wise man


Elvis is a proud member of DIBBL and HEROES

Trial of Blood
During the trial of blood, Elvis and his tunes were gaining popularity (mainly due to their amazing skills).
However, Elvis was not very popular with the other teams in the Trial having a record of 1/2/3.
But, the trial was enough to get into the Southern Wastes League
where their success was only going to rise.
Season 61
Elvis's first gig in the southern wastes went down well, with 4 wins, 1 draw and 2 losses.
The stand-out hits of the season were "Blue Suede Shoes" and "Falling in Love with you".
The audience didn't seem to enjoy "Jailhouse Rock" too much; throwing apples and booing
Elvis when he sang the track.
Maybe because he sang it slowly? But enough said, Elvis's gig was good enough
to get a gig booked in the High Street Dandies Conference.
The other bands have been praying to nuffle but they should be praying to Elvis!
Season 62
Elvis's second gig was a near flop. With a record of 2/1/4.
Elvis's hit singles this season were "Falling in loving with you", "Don't be cruel" and
of course the man himself.
But what happened to the star track "Blue Suede Shoes"?
Well Elvis doesn't know either so don't ask me!
"Hound dog" and "Jailhouse rock" still aren't being received well and Elvis is considering to
never sing those songs again!
But as I said, it was a near flop and Elvis and his tunes stay in the conferences.

After playing a ToB game against Chavo's Halfings. That was a day of amazing skill rolls
~~~

Can't remember what game it was but it was a 1ttd
~~~

Game against Malapropism Mania. However this happened after the game though (with one babe).
Counting it anyways ;) Also got 5 not come back during the game.
~~~

Game against the Jinxed Jesters. That was so incredibly lucky :D
~~~

6-0 against Glammer Rammers
~~~

Against Glammer Rammers. Lots of Elvis fans in the stadium. Not too many bowie fans
~~~