In the 11th month of year 2616 After IC (Imperial Calendar), the citizens of Norden finally got their wish af a blood bowl franchise granted, some say by nuffle himself,
other tribute this to Owner and Head Coach Badpublicity, The Legion Franchise was bought of Zhraia´s who stood accused of being a sweede, and therefor was wanted dead,
and needed the money to buy himself a lawyer to defend him from this horrendous crime.
As soon as the transfer, Badpublicity sent out for Dwarfs to build one of the most spectacular Arenas in the whole emipire, and such was the Legion Field formed.:
Legion Field
After the takeover season had ended (Legion got knocked out in Conference final to later superbowl winners Kemperbad Knights), Coach Badpbulicty wanted to put his own mark on the team, selling most of the team, and drafted 10 new players, and traded in Pierre Garcon.
Making people call this procedure.: to pull a Badpublicty.
Rivalries.: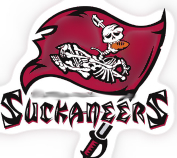 Legion don´t have Rivalries they have A Rivalry, with the Brionne Suckaneers these matches are pure hatred often involving alot of injuries, and even fights between fans. The suckaneers fear the legion team due to us wipeing the field with them in the Conference semifinal, this made the Mean and ugly coach put up a bounty on our players.
Calling for other teams to do what they could not, injure the
GREAT
players of Legion.
Fanclub.:
The most hardcore fans of Norden Legion are called.: The Legionaires, the will fight every Suckaneer fan they meet, and you will often hear them chant.:
Cheer cheer cheer, thank nuffle one is not a Suckaneer, Cheer Cheer Cheer, They drink piss and not beer, Cheer Cheer cheer, we will make their players DISSAPEAR!
General Manager
Bo Brady

Pierre Garcon Probowler
Mitch Berger Probowler
David DeCastro Probowler

Season 2 Conference Final Lost to Kemperbad Knighs 2-1
Season 3 Superbowl Lost to Flashfurt Universe 2-1
Draft 4 own 1st pick and Danish Dans 1st pick, Bghandras 1st pick, Toriels 3rd pick, Danish_Dans 4th pick
Draft 5 own 2nd pick