Puhauax was the only Temple city where Chamelions skinks spawned and there was no chamelion skinks in the old world for 7000 years after the fall of city.
Chamelions skinks started to respawn in spwaning pools around lystria and south lands after Oxyotl returned from reals of Chaos not so long time ago.
Code for this box was provided by Woodstock and you can find it
here
.

SPREAD OUT YOUR CUTE LITTLE WINGS, FELLOW BIRD!
YOU MIGHT FLY HIGH!
BACK INTO ...THE GOLDEN LAND (LUSTRIA)
WHERE WE WILL ....AWAIT YOU!

Kind regards,

Temple guard
\>
>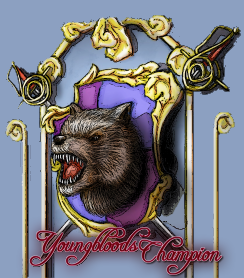 >Youngbloods XVIII Winner
>
>


>Winter's Glory for best Winter performance Y6 (Low)
>
>


>CIBBL - Y6, Spring - Lustria Winner
>
>


>CIBBL - Y6, Autumn - Marble Winner
>





The story of Huntmasters

A long long time ago our tripe hunted only big Lizards. We learned to be fast, we learned to be agile and we learned to use claws. Still those lizards had spiky horns and bigger claws than we did! There was lot of pain, injuries and death among our brave hunters.

A wise man said: Let us find smaller prey for us! And our leaders tough it was right and our tripe started a great wandering to find proper prey.

Our tripe arrived close to Pahuax that was a Temple-City of the Lizardmen. The city was full of small lizards that blended to the background. Those lizards were smaller than us, they did not have any sharp spikes nor any other big scary weapons. It was marvel for us since this was the only Temple city that spawned those small lizards.

So we stayed and we became Huntmasters of Pahuax. So great was our skill in ambush, tracking, stealth and trapping that Sneaky Chamelion Skink hunters became the hunted. Those were the happy days!

But the terrible thing came to us! So great was our skill that there soon was less and less chamelion skinks and not long ago we could not find tasty small lizards anymore. The whole temple city turned into ruins and chamelion skinks were extinct. It was sad time for our tripe.

But now my hunters, Chameleon Skinks have appeared again! In the BB2016 editon we can now find Chamelion Skinks in Blood Bowl Lizardmen roster! Like before we go where our prey is! Let the hunt begin!




Team building and meta for Pygmies

I chose to start 13 players reasons for that are:
-I've read it's easy to run out of players
-I see hard time protecting more than 5-6 positionals anyway.
-I will try to get skills first on 5 positionals before getting new Runner or Blitzer

Only two RR. I was thinking that I have many skills that give me RR. But I soon realized that I need to rely on dauntless rolls and it's kind of negatrait that consumes RR. I'm planning to get Leader for utility Thrower, I hope i have it by second game. But third RR is on my shopping list.

Some build ideas:
First double for Blitzer... I want it to be frenzy, then Juggs and I have ready player. For second blitzer... Tackle or Block.

2* "BLOCK" GUARD, SIDE STEP"
"Tackle", MB, Juggs
"Frenzy, Juggs"

I'd really like to keep my Blitzers sackers and hitters, if linos get doubles I'd rather place my Guard there... but Core G skills like Kick and DP are needed too... this is where being stunty reality strikes.

Runners: Nothing else but +MA matters. OK, there is use case for safety since they have Shadowing, so side step is easy pick for normal A skill. On doubles perhaps block, but building runners as sackers is not very economical since blitzers have dauntless out of the box, so I might go creative on doubles.

Throwers -perhaps strongest positional in the team
Utility guy
Classic thrower (accurate, save throw... etc).

In general I I'm planning to keep TV lowish and develop strong positional Rule of Five

Edit 9.1.2020 I Broke all my plans by rolling and picking +ST on Thrower, this player will be carrier. There won't be pure utilty Thrower for this team. Purchased third RR since I could not take leader as planned and I have still 13 players. Edit 19.2 the second skill was normal, so I returned to utility route with Leader. No idea what next skill will be if it's normal.

Edit 23.1
Good season so far 3/1/0 + Won concession win. Another Thrower got +AG, what a perfect player he already is.
No double skill rolls for Blitzers so I've been taking 2* Guard. Diving in the middle of gages I don't see a long life span for them, so I'd say I could even take third guard if I don't roll double.

I had 10 guys in my roster (+1 missing) and 100k in back. I spend none of since Lino with loner is as good as one without it.

19.2 update. Are we soon making some CIBBL record? Now 8/3/0 and have won our first regional match against major contender. We have 80k in bank, 13 player active with 2*-AV, one missing.

Pygmies already won Young bloods and they collected the most glory during winter!


7.4 update. It went very close - to TD tie braker - but Pygmies won the regional championship in Lustria with 2/1/0. Team is still unbeaten, has 15 players in roster (2*-AV, one NI, two missing) and we have 60k in bank. Looks good, but we expect all the games in summer to be tough! MB, Guard and blodgers!