How to get a game in Blackbox
1. Getting a game
To get a game you need to activate your team within a 5 minute window prior to the draw. The draw is made every 15 minutes (on the hour and then thereafter). So if you want to play at 8:15 you will need to activate your team between 08:10 and 08:15.
The draw is made by the 'BowlBot'. BowlBot takes all the teams that have applied for a game, then pairs them according to a formula that produces the fairest games possible. If enough teams have applied for a round and the matches are fair enough, your team will be paired against someone else.
When you are ready to play your first game click Activate next to your team and you'll be entered into the next draw. Once the draw has been made you will need to refresh your home page to see who you will be playing as shown below:
If there were not enough teams that round, or there wasn't a fair enough game, your team won't be paired.
2. Playing a game, and the post-game sequence
In Blackbox, once the draw has been made you can join the game scheduled for you with one click, press Play next to your team and the FFB client will launch via the following pop-up:
Enter your FUMBBL Password, then press Start Game. The password should be entered automatically these days, first time you launch the client you might get the message 'Wrong password!' just quit and launch it again and all should be fine.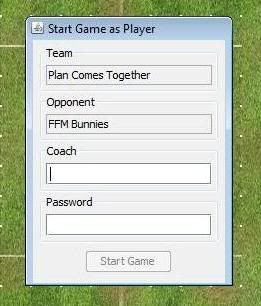 The FFB client will then launch from the server. The client is pretty intuitive, as long as you are aware of the rules of the game you should get along fine. Below is a screen shot of the client in game. Click here to see full instructions and help guide for the FFB client.
To get the 'Activate' links next to your Black Box teams on your Home page all your Black Box teams have to be readied. If you for some reason don't want to ready a team you can use this link, Black Box Activation to activate your teams.
The more teams of different team values that you activate the bigger the chance that you will get scheduled.
Getting a game with a team with team value of less than 900k is pretty rare so Halfling teams should not go for a 600k TV team and if your team is heavily damaged in your first game(s) and left below 900k TV you probably want to retire it and create a new team.
Last update: June 11, 2013