.







DLE's Season 2 Winners!
Super Bowl II Champions!!


DLE Reporter: Murker, why is the DLE trophy so.. unimpressive?

Murker: Explain.

Reporter: Well.. it's not shiney. Or very big. Or.. shiney.

Murker: Observant. It was made by a man, not a master craftsman of another race. Made of iron, and forged with muscle and sweat. Made with a certain amount of pride, knowing its purpose. It was also.. affordable. Here is a scroll that records the commishioner's decision to go with a man's trophy, instead of an elvish trinket.

Office Business Recored #236 of the year 2516. Office Transcript as recored by Willamus Watt, scribe and minstrel to the DLE Commishioner:

"LONGSHANKS! Where is my God damn trophy?!?! This bloody league started weeks ago! Do the players fight over nothing?!" boomed the commissioner's voice.

"I've just heard from the elvish delagate, my Lord. They say they havn't started working on it yet. They've seen how popular the league has become, and they now demand more money for thier work. They want more for their trophy of elvish silver than the dwarves were demanding for their gold-work. We simply cannot pay such an outragous amount, sir. It would cripple the new league."

"This isn't a bloody elf league! There isn't a greedy dwarf within two hundred miles! It's a human league! HUMANS will make the trophy! Not a golden one. Not a pretty, silver one. Get the palace's blacksmith to smash a hunk of iron into the shape of a ball and stick it on a spike. I don't give a sewer rat's ass if it shines at all. JUST GET ME A GOD DAMN TROPHY FOR MEN TO KILL EACH OTHER OVER, AND GET IT STARTED NOW!!"

The DLE's commissioner threw a small bag of gold at his right-hand man, and Longshanks fled the room, murmmering, "Hunk of iron.. shaped like a ball.. hunk of iron.."


Reporter: Fascinating! So which trophy is the real trophy?

Murker: Explain.

Reporter: I mean, the Knights currently display the so-called Super Bowl trophy in their city stadium. But the Universe still display a trophy as well. They look similar, but.. How can they both have the trophy at the same time? And why is the Knight's trophy blood stained?

Murker: To answer your second question, the trophy was made for men to fight over. To die over, if need be. Many have. And wether by coincidence, or by Nuffle's design, a man died over the trophy mere seconds after it's completion. A palace guard commented negatively on the trophy's appearance just as soon as the palace blacksmith had declared his work finished. The guard was beated to death with the trophy and the blood remains, despite any effort to remove it. I would watch how you comment on the trophy's appearance, if I were you. It is now a sacred object. And the blacksmith is not a small man. And one apparently capable of getting away with murder.

Reporter: So how do you expalin the unstained trophy still in the city of Flashfurt?

Murker: Ah. The Universe coach presented himself with that trophy. His ignorant staff seized the replica trophy for themselves before the first Super Bowl had even been won. Assuming they would win, they took it upon themselves to ensure they had it available immedialty after the game. It is not the real trophy. We transport a replica trophy for security purposes where ever the real trophy must travel. They can keep the stolen replica. It means nothing. The real one lies in Kemperband, as it should.

Reporter: Wow. It's nick name is ' The Lump.' Is there talk of making a more impressive trophy?

Murker: The current commishioner can create as many trophies as he bloody well pleases, but I am not privy to his plans, his desires, or any discussions of a new trophy. I can only caution you again about speaking ill of THIS trophy.

Reporter: Thank you for your time!
Team page brought to you by Horspice Breweries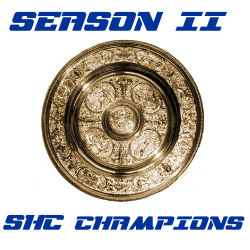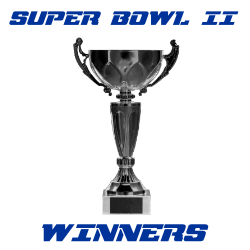 SPP Needed to Skill...
3 Joe Theismann 5
15 Jimbo Covert 6
13 Russ Grimm 6
14 Genarius Brown 9
12 Billy Winn 10
6 Billy Johnson 10
8 Mick Kabluski 12
10 John Nesser 19
9 Justin Hunter 33
2 Kyle Fuller 34
16 Bish "The Bash" Bosh 38
5 Eric Reid 41
7 Sonny Jurgensen 46
4 Terrance West 93
11 Rishard Matthews 94
1 Michael Brokers 95