New coaches Quick Start guide
Greetings, and welcome to FUMBBL.
FUMBBL is a site dedicated to playing and discussing Games Workshop's board game, Blood Bowl (BB). Whether you're a veteran or a total newcomer; FUMBBL caters for coaches of all experience levels; the site is free, all you need is Java installed on your PC, and you are also required to own the board game to play on FUMBBL. Assuming you do, please refresh yourself on the rules of play before you get going as the current rules are not those in the book.
The latest version of the rules and the rules for the 3 new teams can be found on thenaf.net, along with other resources to do with the tabletop and online versions of the game.
The following five quick points are designed to get you playing the latest version of BB in no time, but once you're successfully playing, we strongly recommend that you take the time to read the remainder of the User Guide and drop into the forums to join our community fully.
If you prefer watching to reading, check out the intro video.
1. Getting an account
Click here to get an account creation form. When complete, a password will be sent to your e-mail account to complete your activation. Upon returning, log-in on the front page with your Username and Password. You will be asked to read and agree to accept the rules of the site. It is important you only ever create one FUMBBL account; if you already have an old FUMBBL account and have forgotten your Password or have any other issues please contact a member of staff.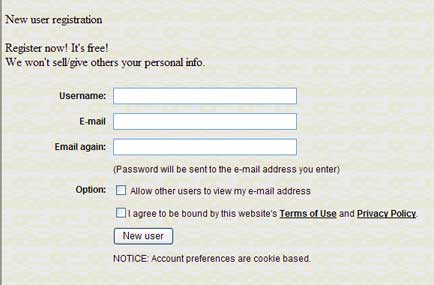 2. Team Creation
Click HOME from the menu at the top of the front page, this takes you to your homepage. Click 'Create a new team'.
At this point you will be asked to select a division for your team to play in. As a new coach the best places to find games is currently the Blackbox or Ranked divisions. In short in Blackbox you get drawn against and opponent and it can be pretty brutal and Ranked you can choose your opponent.
Note: Create a team in Blackbox or Ranked. Or create a team in League and join a league for new coaches, such as the 145 Club. The 145 League is a league designed primarily for coaches who are new to Blood Bowl and/or FUMBBL, who are struggling with the basics of blocking and caging and wish to learn the game amongst coaches of a similar level.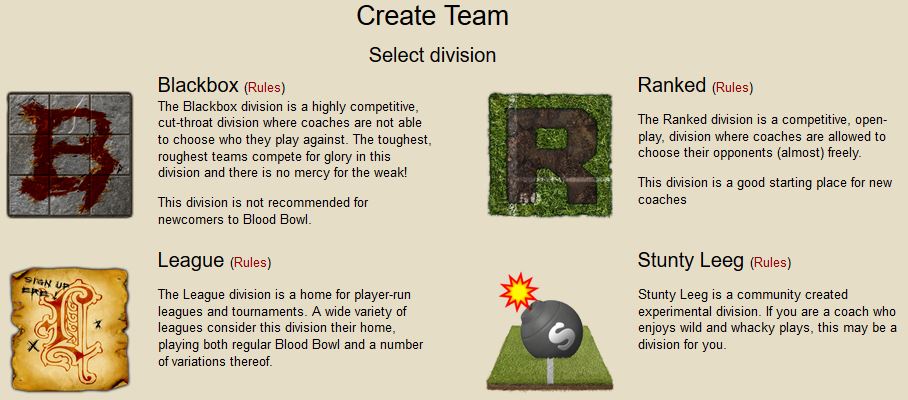 You will be prompted to select one of the 24/27 races in the game...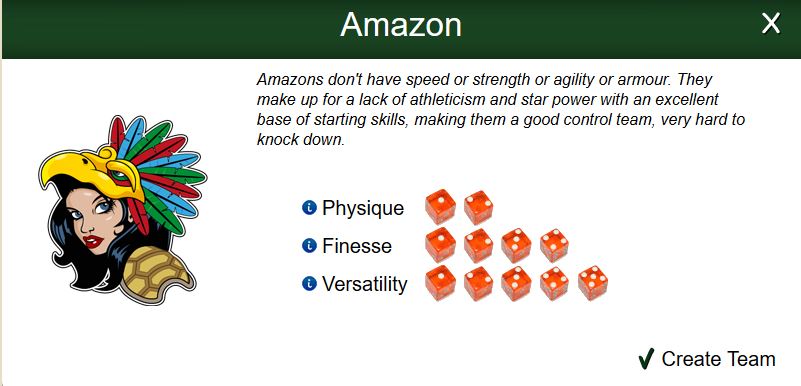 ... and enter a team name.

3. Getting ready for a game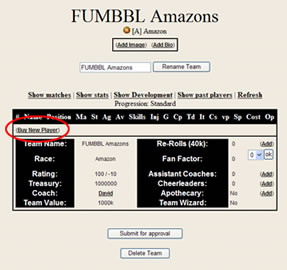 From your overview, click on your team name in order to access the team screen. Click on Buy New Player to launch a window with a list of the players available to purchase.

As you build a team, be sure that your team members have individual names, 'Amazon 1' etc. won't cut it! Follow the Naming Policy!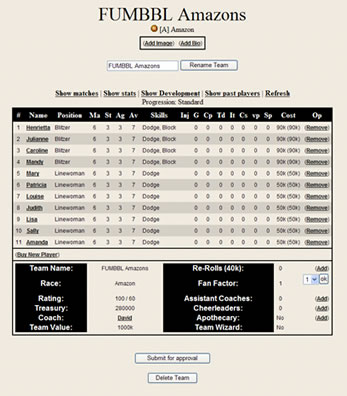 When you have a minimum of 11 players, close the Buy New Player window and refresh the team page. You should see the team you've just built. Add Assistant Coaches, Fan Factor, Re Rolls or Cheerleaders as desired. Click Submit for approval to complete the process.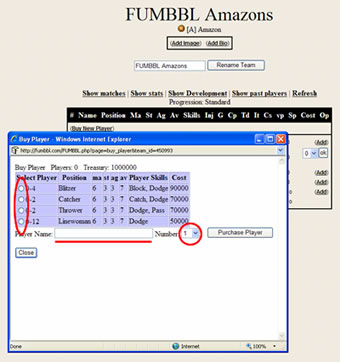 4. Getting a game
Before arranging a game, it's a good idea to Spectate a game so that you can check Java is working. If you are able to spectate, you are able to play. To spectate, click on Game/Current Games and then click on Spectators under one of the games being played.
4.a) Blackbox
To get a game you need to activate your team within a 5 minute window prior to the draw. The draw is made every 15 minutes (on the hour and then thereafter). So if you want to play at 8:15 you will need to activate your team between 08:10 and 08:15.
The draw is made by the 'BowlBot'. BowlBot takes all the teams that have applied for a game, then pairs them according to a formula that produces the fairest games possible. If enough teams have applied for a round and the matches are fair enough, your team will be paired against someone else. (If you would like to see the whole draw then please use the Java chat accessed from Community->Chat->Java Applet and go to the FUMBBLBlackbox channel.)
When you are ready to play your first game (and you have made a Blackbox team) click on Activate for next round above the list of Blackbox teams. Then click on Show Activation Panel on the left. On the new screen click on the teams you would like to Activate and then click the green box marked Activate.
Play. If there were not enough teams that round, or there wasn't a fair enough game, your team won't be paired. Otherwise, after the quarter of an hour mark is passed, return to your home page and refresh it, then click Resume next to the team that was scheduled. If there is no Resume then your team has not been scheduled.
There's a video of the process too.
4.b) Ranked
The mechanism for starting a game in Ranked is exactly the same as in Blackbox, except you decide with your opponent if you'd like to play; the division gives coaches free choice over games. To signify you would like to play a game, put R teams you'd like to use on Gamefinder. There you will see other coaches whose teams are within the allowed TV limits from yours. If you both agree to play, you will be taken to a confirmation screen and the game will launch automatically once both coaches have confirmed they want the game. There is a rule in Ranked that you only play an opponent on average a maximum of one time per ten games. This is to ensure no groups of friends take advantage of a competitive division. To play just within a group of friends, try the League division instead.
Here's a video of the process.
4.c) League
Creating a game:
Step 1: Decide a Game Name (anything you like e.g. rookie) and tell it to your opponent via PM or chat.
Step 2: Go on your home page and find the team that you are looking for and press "Play" (or "Resume") which is on the right in red writing.
Step 3: A pop-up will come up in top right corner (if using safari) open it up and java will load.
Step 4: Once game is loaded there be a pop-up which is about fantasy football, click it to proceed then another box will come up.
Step 5: There should be 3 lines, top is team name, your name and empty box for game name. Click in the empty box.
Step 6: Type in the Game Name. Be careful it is case sensitive.
Step 7: Click "Start new game".
Step 8: Done. you ave successfully created the game now all you have to do is wait for your opponent to arrive.
Joining a game.
Step 1: Receive a Game Name from your opponent.
Steps 2 - 7: As above
Step 8: Now you are ready to play.
If you would like to request help, tips or a training match via PM try the Faculty of Academy Instructors
5. Playing a game, and the post-game sequence
In Blackbox, once the draw has been made you can join the game scheduled for you with one click, press Resume next to your team and the FFB client will launch.
Enter your FUMBBL Password, then press Start Game.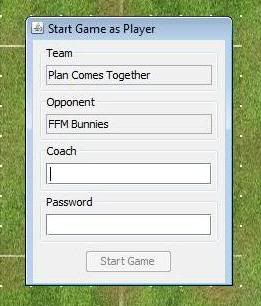 The FFB client will then launch from the server. The client is pretty intuitive, as long as you are aware of the rules of the game you should get along fine. Below is a screen shot of the client in game. Click here to see full instructions and help guide for the FFB client.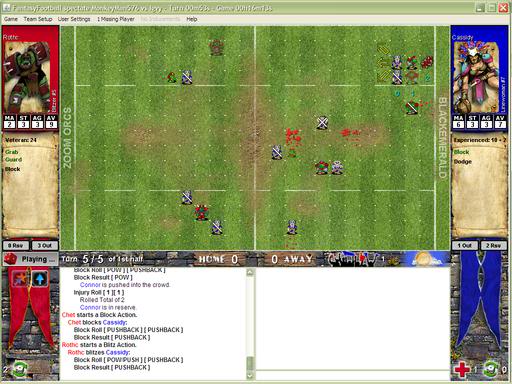 The mechanism for beginning a game in Ranked is no different; press the Play link to launch the client, but you'll simply need to add the game name you decided upon with your opponent as discussed above.

When you have crushed your opponent (or been crushed!), return to the team screen. Here, you see a red 'S' for skills to pick. Go to the team screen to pick them.

If you've no skills to pick the icon will be a yellow 'P' for post game sequence. You can buy new things, hire Journeymen and make your team ready for their next encounter. When you are ready, click the Ready to play button, and you're ready to go again!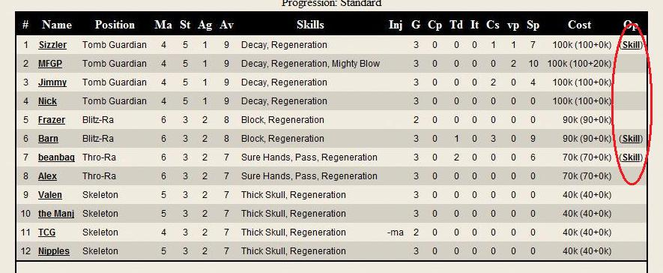 Now you've played game one, you'll realise how much fun online BB can be. We recommend that you digest other areas of this User Guide and engage yourself in our community. An extremely useful tool for interacting with the coaches onsite and scheduling games both in and out of Blackbox is IRC chat. You'll find this extremely useful in the long run, a good guide for installation can be found here. FUMBBL is what you make it - the more you immerse yourself, the better your experience will be! See you on the pitch!
Last update: December 22, 2019