Team approval
In this section, you will learn how to get your team approved. If you already know this you can go to the next section which explains how to pick skills. If you just want to play games, you can instead move on to the section explaining how to install Java the only sotware you need to play.
When you are happy with your team and have double checked that the team and player names conform to the rules, and the team naming rules, you are ready to submit your team for approval. In the team edit page, click on the "Submit for approval" button at the bottom of the page. You will then be asked to confirm your team meets FUMBBL's Team Naming Policy. Once you confirm that your team complies, it will be ready to use and the icon next to your team changes to
.
Once your team has been approved, take the time to read the skill choice page.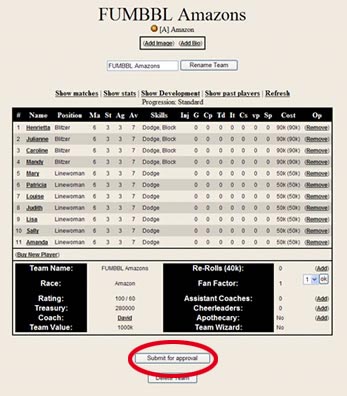 Last update: February 2, 2013