Purchasing players, sideline staff, re-rolls and dedicated fans
This section will show you how to purchase players, sideline staff, re-rolls and dedicated fans.
Find your newly created team: First go to your homepage. Click on the name of the team you wish to modify in your team list. You can only modify teams in a "new" status which is shown with this icon
on your team page, or to the left of the team's name on your homepage. You can freely buy and sell players, staff or items for your team. Naturally, you can't sell anything once your team is ready to play (shown by a
icon).

Click on Buy New Player to launch a window with a list of the players available to purchase, it will display the players you can buy, with a description of price, stats, skills and how many of each you can have on the team. FUMBBL help pages include sections with recommended builds for every race.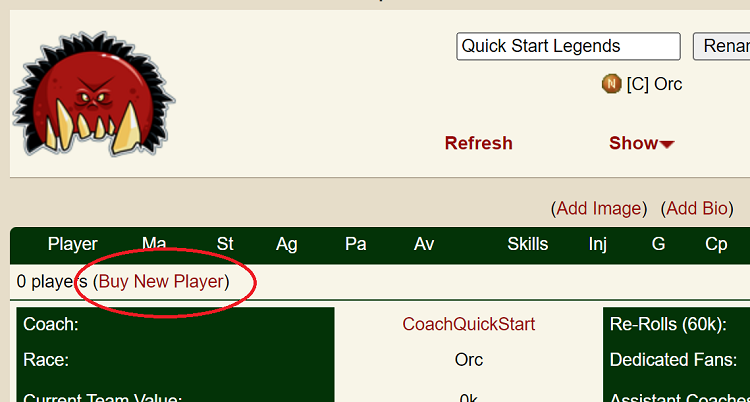 You have a treasury of 1,000,000 to purchase your starting roster
Purchase Players: Select the position, name and number of the player you want to hire, then repeat until you have a full team. A new team requires a minimum of 11 players to be created, you'll be given an auto-generated player name, if choosing your own names, please follow the Naming Policy. After buying a player, you must refresh your team page if you wish to view your purchases. You can still remove or edit any players until you click the team ready for approval button.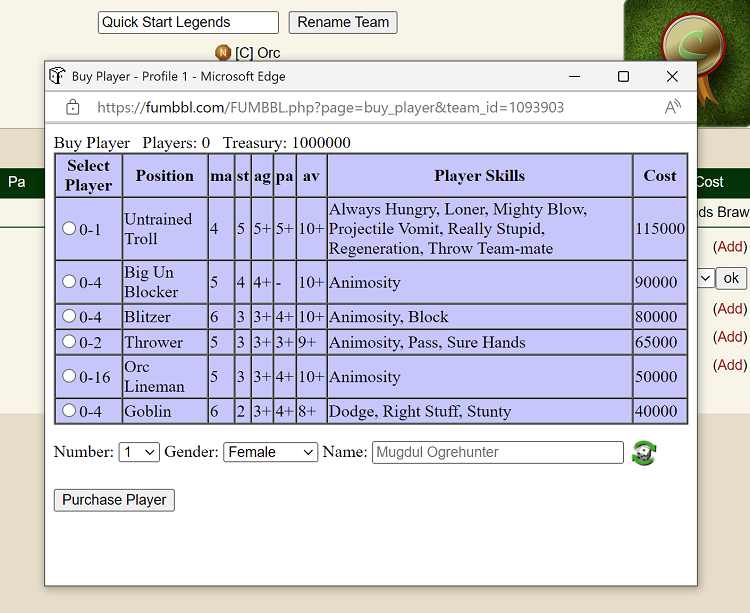 Purchase Re-rolls: Buying rerolls (from 50k-70k depending on your teams race) or staff is done in a similar way. Simply use the links on your team page and the appropriate items will be added to your team. It is usually recommended to start with 3 or more Re-rolls for the lower agility teams and 2 or more Re-rolls for the high agility teams (elves). Rerolls will cost twice as much to buy later, but sometimes teams will still start with fewer and aim to buy more later.
Purchase Sideline Staff: You can purchase assistant coaches (10k), cheerleaders (10k) and an apothecary (50k if your team race allows it) at this stage but most people would advise against it at this stage, other than an apothecary for lower armoured teams.
Purchase Dedicated Fans: You can also purchase extra Dedicated Fans, up to a maximum of 6, at 10k per point. Dedicated Fans will increase the money you earn for each match, so it's well worth buying some, but not at the expense of being able to buy the right players for your new team. You cannot buy Dedicated Fans later, only on initial team setup. After a win, you'll roll a dice to see if Dedicated Fans goes up, after a loss you'll roll to see if it goes down.
Submit the team for approval
At this point your team should be complete, it just needs to be submitted for approval. The approval process is automatic, click the Submit for approval button and you'll be asked to confirm that you've followed the sites naming policies.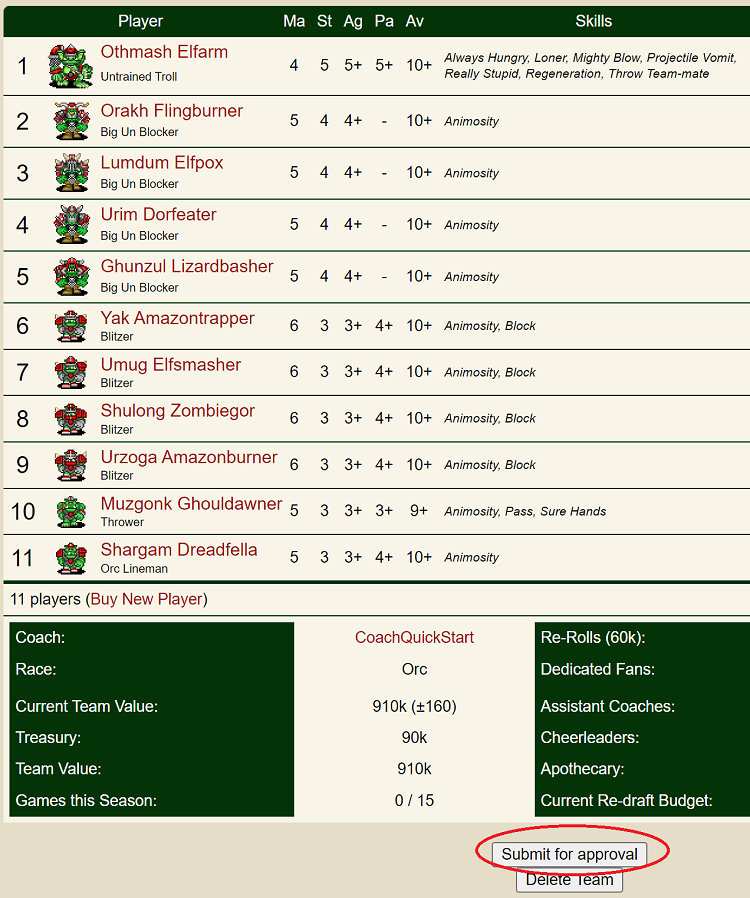 ---
Next page: Player portraits and team logos
Last update: October 20, 2022