ramchop



Joined: Oct 12, 2013


&nbsp Posted: May 27, 2023 - 00:46


FUMBBL Staff
---
SWL XCVI Premier
Round 6: Semitence's Norse "Sun's out, Guns out!"



Two BOrcs and a Troll down, up against the current champion, a very TV efficient Norse team. At least in our current state we wouldn't be facing any megastars.

Usual Luckers Plan A, destroy:




A journeyman goblin gets the first knockdown at the end of Turn 2. Luck does have a habit of evening out over time.

Idiocy however....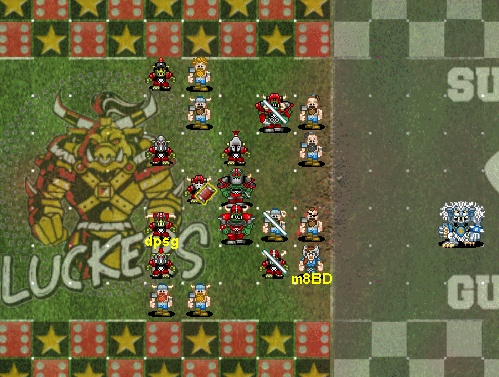 Who needs to break a cage if a greedy cage corner gets himself sent off? Speedy blodger collects the ball and is away.
Idiocy doesn't tend to even out. Not many idiots in Prem, and there'll be one fewer there next season.



Full time: 0-2 (2/1/0 - 3/0/0)