So, you have a team which graduated from the 145 Club, and maybe you've improved a little as a coach. This is the league to bring those teams together and schedule some games. Most will laugh. Some will cry. The players will continue to grow. Hopefully we will all have fun and learn a little.

The plan will be to launch the first season after the end of the next 145 Club round robin season, likely in April 2018. At that time, we'll divide into (roughly equal) divisions of 5-9 teams by TV and start playing, with two week rounds.
The basic idea will be to accept teams which have graduated from the 145 Club (i.e. are too large to run another season over there), one team per coach, and hopefully have enough teams to divide into more than one division (by TV) to play some tournaments. I assume we won't be of interest of the really good coaches, but I'm hoping the league will be open to teams, even if they started in open play or some other league. We'll have to see if that mindset causes problems.

The El-Aljana, also known as the Isle of Misfit Teams, is north of Sorcerers' Island, well off the coast of Araby. It is warm, sunny, and is blessed with red sandy beaches, rocky red cliffs and several defensible harbors. Its people are beautiful and have been made moderately wealthy by trade and some say piracy. They are tough and independant, and have recently taken a liking to Blood Bowl. They've hired a Blood Bowl expert, the goblin Bhenjamyn Sculkrak to get a league started on the island. To that end, he has acquired a two kilogram Gromril ingot of an unknown origin as a tournament prize, and has started sending out heralds to nearby lands to entice teams to come compete in the tournament.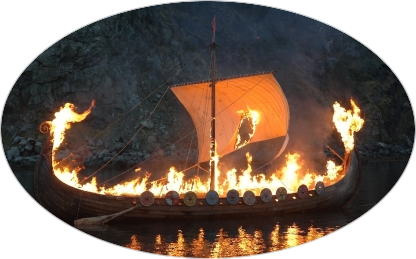 A special viking funeral ship is also still in route to serve as the prize for Season Three. We are assured that the Season Three Champion team will be able to place the remains of one former member of the team on the ship for a
proper Norse funeral
. It shall be set ablaze at the end of the harbor while the rest of us drink heartily. The former team member will be returned back to our mortal realm, perhaps a little worse for the experience. They'll be able to join their team, but will suffer injuries at twice the rate they did before (
gaining the Decay skill
.)
But don't read the fine print. Okay, the fine print is folks winning the tournament will get to define some of the parameters of the next tournament, and supply the prize! See razmus for more information when you win!

Do I need to start with a new team?
Naw. The island is looking for teams which have played somewhere else in League play and are now orphaned. This is especially true of teams which graduate from the 145 Club. Bhenjamyn wants 'em to come play for the enjoyment of the islanders.

Any team?
Well, teams built on ruleset '6'... that's the normal 'League' (not black box, not ranked, not secret league or one of the other special rulesets) ruleset. If there's a team or coach that is especially disruptive, they might be escorted off the island. And I'm anticipating the island will mostly be for coaches below 160 CR or so, kinda a 'post-145' group, but agreeable enough coaches will be allowed regardless of their ranking.

[But, ]Is there a limit on team size? [joining before season one]
I'm going to say there isn't, but I don't expect to see many teams with a value too much over 2M gold... with quite a few being in the TW 150-200 range.
My thinking goes something along the lines of: in my home TT league, teams usually just cross the TW 160 threshold, and the season ends and we go thru the end of season stuff which trims the team down. Teams also frequently get to about this size in 145 Club before the season winds down... usually about 10-15 games. HOWEVER, as a coach relatively new to FUMBBL and who loves league play, I've had the opportunity to play up 50-100% of my team value on occasion. It's a helpful skill to cultivate. (And one, like so many things, I'm very slowly learning.) That said, I also believe the most fun is playing teams somewhat close in value. Assuming we get a dozen or more teams, we'll be dividing into divisions based on TW, so at least initially big teams are more likely to face big teams. AFTER season one, I assume we'll have several teams grow into the TW 200+ range, so I think potential problems will smooth themselves out fairly quickly.

Okay, long winded way of saying, "Great question! I'm gonna say 'Nope, there isn't,' and see if I need to reconsider or regret that later."

Why around the rounds so LONG? I want to play more often!
Well, if you can play ahead, play ahead. Join some other leagues too. This is ment to be a low stress, fun league so we can learn things. I don't want folks to feel they need to leave because they're gonna be unavailable for a weekend or week.

What kinda things could we possibly learn?
Leagues are fun. How to use the scheduler. How to schedule games across timezones, days or weeks in advance. How to cope with divergant TVs. How to build (or how not to build in my case) teams with larger total TVs. (That's one of the things I'm working thru.) And how to run a league. (Okay, that last one is mine too. Be patient with me. I'm learning. :-))

Season Three start: 1 June 2019
Deadlines:
Round 1: 16 June
Round 2: 30 June
Round 3: 14 July
Round 4: 28 July
Round 5: 11 August
Round 6: 25 August
Round 7: 10 September
Round 8: 24 September

Top two teams play a final BOWL game for the season title. (In the event second place is a tie... it'll be a two round playoff. If there is a tie for fourth, the face to face result then TOTAL FOULS thrown for the season will be the tie breakers for fourth!)